At a Birthday party
March 14, 2010

Filled under

My Kids
Masha was invited to Nicholas's birthday party. She was so excited about it! It was at Monkey Joe's. We have not been there for over a year. Last time she went, she was too afraid to go on most of the slides. This time she had a blast. She kept going to the party room to check if the actual party at the table started.
Here is Nicholas, the birthday boy and his Mom, offering Masha a balloon.

Here are Masha and Svetlana on the inflatables. We were surprised to see that Svetlana, being only a year old, was not afraid to crawl inside the bouncers. She actually had as much fun as Masha.

The party started off with a pizza.

Look how excited Svetlana is about the cake.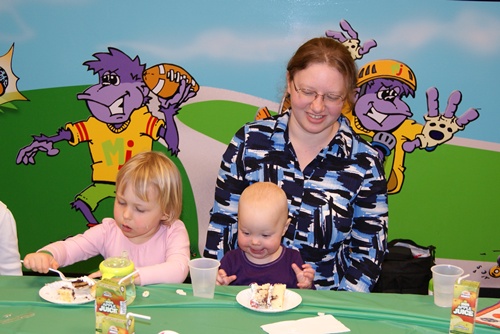 Svetlana is walking around the place with her jacket over her shoulder. She looks pretty confident at MJ's…
Tags: Monkey Joe's Birthday