Easy to Drink Sippy Cup + Suction Mat + Travel Dishes
We like to try out new and innovative products. We recently received Tommee Tippee Bowls with lid and spoons, Spill Proof Water Bottle, and Explora Easi-Mat.
We liked the Tommee Tippee Explora Bowls with Lid and Spoon because
The bowls can be attached to the tray (Explora Easi-Mat)
The lid closes tightly and prevents spills
The spoon snaps to the inside of the cover and remains clean
The bowls and spoons are BPA free
Spoon changes color if the food is too hot for the baby. Now, that is high tech!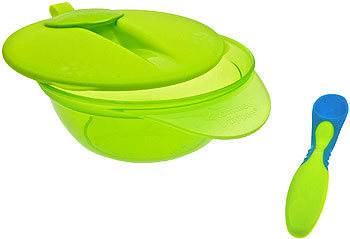 We liked the Spill Proof Water Bottle because
It is easy to drink from. Really really easy.
This is really important. I must have bought at least 10 kinds of sippy cups and spill proof bottles for my kids. I could not understand why my babies did not want to drink from them. They wanted to drink only from the adult cups. I finally figured it out, all these cups were extremely difficult to drink from. Kids had to put a lot of effort into getting one sip of water or juice. When the Spill Proof Water Bottle arrived, my baby liked drinking from it so much, she would not part with the bottle for a minute!
The bottle is spill proof. I turned it over, not a single drop came out
It is easy to take apart and put together

We liked Explora Easi-Mat because
It sticks to flat surfaces and hold bowls and plates in place preventing spills and, most importantly, preventing throwing of bowls on the floor (or anywhere around the kitchen)
It is BPA free.
It is designed to hold Tommee Tippee bowls, but I have used it successfully for other bowls and plates. The only condition is that the plate/bowl you use has a flat bottom.
Bowls and plates are easy to remove from the tray – it has a tab which can be pulled to release the dish

Tommee Tippee products can now be found in all Toys "R" Us and Babies "R" Us stores nationwide as well as on BabiesRUs.com.
Now through July 23 you can buy any Explora item (cups and toddler feeding), get the second 50% off at BabiesRUs.com (http://bit.ly/cDYhv8)
Disclaimer: I received products from the Mom Bloggers Club and Tommee Tippee in order to facilitate the review.