My kids are not fans of gym childcare
I was driving home from work with a definitive idea to go for a walk. As I got home I realized that I am so extremely tired that the most I could do is get some more work done on my computer. The guilt started overpowering me and I decided to head over to the gym and take both girls with me. After all, I pay the daycare fee together with my gym membership.
My 4-year-old Masha did not mind staying in the kids' room, especially since she spotted some toys there. My two-year-old Lana was not excited at first but agreed to stay and play with Masha. I was relieved that the girls can play while I take an hour long step class. I walked in the class, grabbed the step, and joined in the action. Two minutes later I saw a caregiver through the glass window motioning to me. What could have happened, I wondered.  "They won't stop crying", she responded. I ran in, pickup up the younger child, and asked my preschooler: "why were you crying"? She explained: "I was not crying at first. But then Lana started crying because she wanted Mommy. I saw her crying and it made me sad, so I started crying too". Needless to say, this was our first and last visit of the gym kids' room.
Soon after that, I terminated my gym membership. I just could not afford to waste the time on the drive there and back. Plus, I would have to pay for a babysitter.
I used to take my first baby to the gym with me – as you can see below, but she was not willing to hang in her sling longer than five minutes. Plus, I am pretty sure it is against the rules.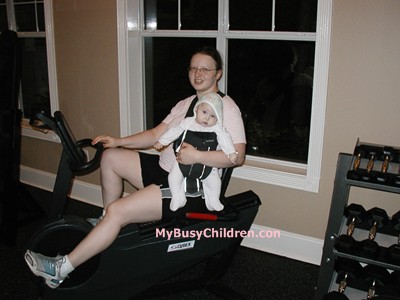 After my fiasco with the gym daycare, I decided to find some programs on TV and do exercises at home. After a long search through the list of cannels, I found out that the only channel which had exercises program was removed from the program list. Plus, all fitness programs on TV have commercials which disrupt exercises.
In the end I figured out that the best option for me is to exercise with the help of the Top Trainers DVD set, consisting of ten workout
DVDs. I like that some of the programs include time countdown icon, showing how many minutes/seconds left until the end of the workout. I can either follow the suggested program or chose any workout I feel like, for example Core and Strength Fusion, Shed Five Fast, Yogini, Ballet, Six Minute Quick Blast Method, Best Body Circuit , Ultimate Body Shaper, Latin Sensation, and more. Some programs even include my favorite exercises with the step.  I just need to make sure my kids don't take over the step.
How do you manage to get exercises done with kids at home?
Disclaimer: I received Top Trainers DVD set for review. I received no monetary compensation for this post. The opinions are all mine. This post contains affiliate links.