No-Fuss Ways to Decorate Your Child's Room
By Karen Barnett
Kids grow and change quickly. For instance, the average youngster goes through 2-3 pairs of shoes each year – those little feet grow fast! With all that growing, kids (and parents) want their rooms to grow with them. When considering a decorating theme for a child's room, keep in mind that what they like now won't be "cool" two years from now. Hunt for inexpensive items and get the most for your money with paint, removable decals, posters, linens, pillows, re-purposed items, and a little creativity.
Here are a few ideas for a special room your child will love:
1. Create bold stripes using contrasting colors of paint. As a focal point, paint an initial on the wall, or use an inexpensive, removable graphic or monogram to personalize the space for your child without painting. Use bold linens in complementary colors and artwork with contrasting mattes and frames to pull the room together and complete the look.

2. Create a theme using your child's favorite pastimes or hobbies – even though these can sometimes be ever-changing. Below is an example of how one parent created a swimming theme for her child's room. You can recreate the look of a "pool" by painting the walls blue, displaying trophies, and using wall decals of your child swimming like one of our clever customers did!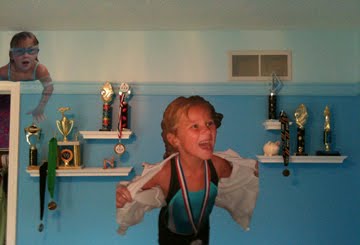 3. Boys especially love sports! Encourage them to pick up their clothes by placing a basketball hoop over their hamper, and a dry erase board decal or chalkboard decal  can be used to keep score. Customized sports decals or sayings will instantly decorate their room and finish it off. Posters of favorite teams, hats, pennants and other inexpensive items can be showcased on the walls. And to really round-out the theme, baseball bats, hockey sticks or golf clubs make great curtain rods!
4. Dots are popular design choice. You can find bedding and plenty of accessories with dots in all colors. In a short amount of time, you can sew curtains, make pillows, and find fun rugs, pictures, and colorful lampshades to carry out the theme. Contact paper circles can be cut out and adhered to walls, or make a stencil and paint them on the walls. Then customize the space with your child's name or a monogram decal to finish it off.

5. A simple quote on the wall can be a great focal point in a room, like this quote below from Pablo Picasso. Bring out the artist in your child by hanging their artwork from a clothesline, or purchase a dry erase board decal or chalkboard decal so that they can color or write messages. Frame a few extra-special pieces and build an entire room around an artistic theme. Consider making each wall a different color, and use your child's handprints to really make the space unique to them.

About the Author
Karen Barnett is President of OleeKids, an online retailer specializing in custom and packaged decorative graphics for the home. Their passion is helping customers "capture life's big moments!" through creative, custom home décor. For more information about Olee Kids and their affordable decorative graphic packages for children's spaces and removable wall decals made out of a digital photograph, call (800) 225-5040 or visit the Olee Kids website. Enjoy each and every stage of your child's development. Happy decorating!
Disclaimer: this is a sponsored post