How PTAs can make money for schools with Box Tops
My kids recently started school and I became a member of PTA. As a Mom, I volunteer at school and help as much as I can. I was a complete novice in the fund raising field until I learned about Box Tops. Raising money for school could not get any easier: it takes a few seconds a day, plus I do not even have to leave my kitchen. All I have to do is clip some Box Tops and send them with my child to school. You can check if your school is participating and how much it already earned.
Where to find Box Tops: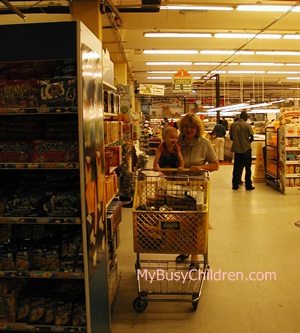 There are more than 240 Box Tops for Education brands, including Cheerios, Betty Crocker, Pillsbury, Kleenex, Ziploc, Hefty, Juicy Juice, Avery, Land'O Lakes, Brita, Hanes and Boise.
I was always under the impression that if I do not buy cake and muffin mixes, I could not contribute to my daughter's school Box Tops fund. I was wrong. Box Tops can be found on paper plates, trash bags, school and office supplies, bath and facial tissue, cheese, yogurt, butter, eggs, juice, and many more grocery items.
How to earn money:
Clip Box Tops coupons from hundreds of favorite products.  Each Box Tops coupon is worth 10 cents for your school.
Shop online at the Box Tops Marketplace and your school earns eBox Tops on every qualifying purchase—at no additional cost to you.
How much can a school earn:
America's schools have earned more than $445 million through Box Tops for Education since the program started in 1996, including more than $67 million in 2011. Your school can earn up to $20,000 by clipping the 10-cent coupons.
How it works:

Any K-8 school (private, public, or even a home school association) can be enrolled in the program. Each year enrolled schools receive a program kit to help them build their own comprehensive fundraising campaign.  Most schools designate a program coordinator to develop ways to encourage students, parents, school staff and community members to clip Box Tops from participating products and bring them to school.
After the collected Box Tops are sent in to General Mills, the school receives a check, equivalent to 10 cents for every Box Top redeemed to purchase items such as computers and computer software, library books, art supplies and playground equipment.
To find out more about way local schools collect Box Tops and use the money earned, I reached out to a local school, Roberts Elementary in Suwanee, Georgia. A co-chair of Earning for Learning Committee agreed to answer some of my questions:
How do you engage parents and children in collecting Box Tops?
We let parents know about the program during open house and registration day. We have samples of items that are part of the Box Tops program.  Many parents may not know what a "Box Top" is, and it is a simple and easy way to introduce them to the program.  Approximately every quarter we send out a collection flyer in the children's Friday folder, letting their parents know about the next collection date.
Do you use a competition approach between classes?
Some schools have competition between classes: the class that gets the most box tops gets a reward. However, we found that a "Treasure Box" reward system works better for us. A member of the PTA sets up a table of reward items (sticker sheets, crayons, colorful pencils, etc) The kids simply turn in their items to the PTA member and is able to pick some sort of "treasure" from the table.  We set it up for two days.  If the children forget about the collection on the first day, they are able to participate the second day by bringing in their Box Tops.  Our children seem to really enjoy this process.
How many PTA members are involved with the program?
Two PTA members, co-chairs of Earning for Learning Committee are engaged in the program.  We have about 2 additional PTA members who assist us on a regular basis with the collection and set up of the tables.
How have you used the money earned?
Our school earned $1,700 from Box Tops last school year. The money is being used for our Arts and Education programs as well as teacher grants for special projects.   These programs are not always fully funded by county and the Box Tops program can supplement what the county does not pay for.
Where to find more information:
Box Tops for Education website – www.btfe.com
Fan Box Tops for Education on Facebook at www.facebook.com/BoxTopsforEducation
Follow Box Tops for Education on Twitter at www.twitter.com/BTFE
Learn more at YouTube
Disclaimer: I received promotional items to facilitate this post. Opinions are all mine.
Tags: Box Tops