There is snow every day in Atlanta during winter (at Snow Mountain)!
Every day my kids ask me not if, but when, is it going to snow. While Atlanta may or may not see any snow, we are very lucky to have Snow Mountain at Stone Mountain Park nearby. With hundreds of tons of snow and multiple attractions, this place is a must-visit destination during the winter.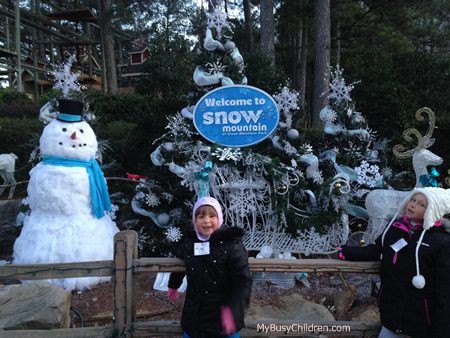 We started off our Snow Mountain experience with two hours of tubing. We must have gone down at least 8 times. We probably managed four trips down the hill in the individual tubes and four times in huge family tubes (Avalanche Valley). Both were equally fun. While the kids loved being independent in their own tubes going down by themselves, we also thoroughly enjoyed going down in the group tubes and watching the excitement on each other's faces.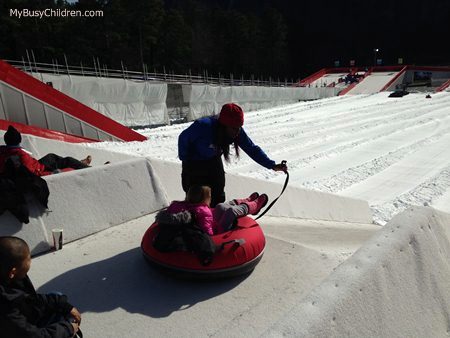 After our two-hour tubing session on the 400-foot tubing hill was over, we headed for the SnowZone.
It is great for kids of all ages, even the smallest ones. When we took our first trip to Snow Mountain in 2010, our toddlers were gleaming with joy at playing in the snow and going down the Bunny Slope in the Little Angels area.
They were just as happy to play with the snow now.
SnowZone has a slide area for kids up to 54″ called Penguin Run.
There is no time limit on this slide. The kids must have spent another two hours going up and down.
This came to a total of four hours of them pulling the tubes behind them. While the main tubing has a conveyor belt-type lift, the kids still had to hold on to the tubes.  It was, by far, the longest workout they've had to date this year. That night was also the first time they asked to go to bed without putting up any battles.
Disclaimer: I received complementary passes to the attraction.