Fabulous Mother's Day Giveaway $112 value (perfume, hair products, stationary)
Welcome to another fabulous Mother's Day Giveaway. One reader will win  
Soulgasm fragrance by Sasha Varon ($65 value)   
Stationary for kids ($8 value)   
Four unisex haircare products from Hairmax ($39 value)   
 The total value of this prize is $112.00
This contest is only open to readers in the 50 United States.
Product 1. Perfume Soulgasm by Sasha Varon ($65.00 value )
Feel funky and vintage glam at the same time. What could be better than a perfume that has a distinct scent, but also leads to seduction? Nothing. soulgasm, a new perfume by Sasha Varon, is deep, sheer, and definitely intense. The base of the perfume is clean musk, warm amber, and a sweet french vanilla. jasmine, lily, and woodberry comprise the heart of the perfume, with some black currant, freesia, peach, and pear notes in it, as well. The perfume smells very sweet, kind of like a candy store or a fresh bowl of fruit.
A sexy & bold fragrace for those women who aren't afraid to be the center of attention. Drawing on the glamorous  Hollywood days gone by with today's woman, sexier, bolder and more daring, Soulgasm  is sure to please even the most glamorous girls who want to get noticed! Arrives in a Beautiful vintage atomizer in bad-kitty-black netting.
Soulgasm is true perfume not an EDP, Soulgasm contains 33% fragrance oils to diluent ration giving its wearer a Subtly Brash, playfully lusty statement that won't change you, just everyone around you.
Notes:
Top notes: succulent Peach, Anjou pear, fragrant South African Freesia and warm, exotic Black Currant are instantly intoxicating
Heart notes: Salacious notes of wild, night blooming Jasmine, delicate Eurasian Lily and multi-faceted Woodberry blossom forth
Base notes: Flushed, lusty notes of clean Musk, Amber, and sweet, warm Vanilla punctuate this sensually provocative, luxe perfume.
Product 2.  "Oh my word" greeting cards From Camp


"Oh my word", designer of sharply written and modernly designed greeting cards and gift items announced today the launch of  a new line of camp cards to ensure your sleep-away campers will write home. In keeping with the company's witty voice, kids will appreciate the simplicity and will drop you a line… or two. The cards can be found in local stationery stores and on the company's website.
The set of camp cards is packaged to include three fill-in-the blank, no-brainer, fold over camp cards and envelopes. Retail price for the 3 card set is $8, individual cards can be purchased for $4
Oh My Word is the hot new line of greeting cards and gift items that say what you're thinking. Words rule here, so the design is minimal with to-the-point messages and lots of white space.  
Product 3.  Hairmax Enhancing Shampoo ($12.00 Value)The developers of Hairmax at home hair care product line know a thing or two about providing hair with more luster, shine and manageability than many of the products available on the market.  Using their vast experience of over 20 years of research and clinical investigation, HairMax has developed a new approach to hair care. The process starts with a sulfate free base to gently cleanse the hair without stripping essential oils. Other shampoos contain sodium laurel sulfate (SLS), a harsh detergent that strips the natural oils from the hair follicle, SLS causes the oil glands to over-react creating too much oil. This excess oil converts to a waxy substance that builds up on the hair shaft and may restrict proper hair growth. Hairmax Enhancing Shampoo is sulfate free and does not contain harsh chemicals like SLS. It gently cleanses the hair while combining with the hair's own natural oils to lubricate and moisturize the hair shaft.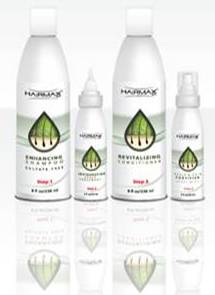 Hairmax uses Phytic acid in its shampoo system to lower the pH and promote a regenerative action on the base of the scalp, reducing oxidative stress layers. The shampoo system can be used by itself or in conjunction with the HairMax LaserComb. The HairMax shampoo system has a lower pH than most shampoo systems on the market. The company's research indicates that the oils (sebum) produced in the hair follicle can turn into a waxy substance in higher alkaline environments. This lower pH, phytic acid based shampoo system helps to prevent the sebum build up and promotes the lubrication of the hair follicle to encourage healthier looking hair.
 
Product 4.  Revitalizing Conditioner ($12.00 value)
Most conditioners are thick and heavy, weighing down the hair making it look flat and difficult to style. HairMax  conditioner utilizes innovative botanicals that deeply moisturize the hair shaft then rinse free, leaving the hair soft and manageable.
The HairMax Conditioner restores and protects the hair shaft while a combination of botanicals and vitamins rejuvenate your hair's look and feel. With the added benefit of sunscreen protection, the HairMax Conditioner will encourage a healthy scalp; giving your hair a healthy look and feel, leaving your hair smooth and shiny.
 
Product 5.  Invigorating Scalp Treatment ($7.50 value)

Healthy hair comes from a healthy scalp. Perspiration, sebum, environmental pollution and styling products can build up on the scalp clogging the hair follicle, leaving particle deposits that can clog hair follicles and leave hair looking flat and greasy. Invigorating Scalp Treatment is designed to dissolve these particles, washing them away, making your hair look full, clean and full of body. The Invigorating Scalp Treatment contains phytic acid to help reduce the pH of the scalp. When used in conjunction with The Hairmax Laser Comb, this facilitates laser absorption from the Hairmax into the scalp.
 
Product 6.  Hair Fortifier ($7.50 value)
Many of us take vitamins to maintain the health of our body. Well our scalp isn't any different. HairMax Hair and Scalp Fortifier are vitamins for your hair. This product is infused with a special combination of botanical nutrients, DHT blockers and innovative ingredients, like caffeine, oleanolic acid and biotinoyl tripeptide, that are believed to have positive results for healthier looking hair. HairMax Hair and Scalp Fortifying mist is delivered directly to the root of the hair, maximizing the benefits these innovative ingredients may provide.
THE GIVEAWAY:
One lucky reader will win
Soulgasm fragrance by Sasha Varon ($65 value)   
Stationary for kids ($8 value)   
Four unisex haircare products from Hairmax ($39 value)   

Enhancing Shampoo
Revitalizing Conditioner
Hair Fortifier
Scalp Treatment
This giveaway is open to readers in the 50 United States. (no P.O. boxes). Approximate retail value of the prize is $112.
To participate in the giveaway, you could do any or all of the following:
Leave a comment – what is the best gift you ever received or gave for Mother's day? (1 entry)
Join me on Google Friend Connect (left sidebar). Leave a comment here (1 entry)
Like me on Facebook. Leave a comment here with your Facebook name.  (1 entry)
Follow me on Networked Blogs. Leave a comment here that you follow (1 entry)
Follow me on Twitter. Leave a comment with your Twitter name (1 entry)
Submit this giveaway to any sweepstakes site or giveaway Linky. Leave one comment with a link each time you submit. (1 entry per submission/link; unlimited entries)
Tweet about this giveaway.  #Mothersday #Giveaway #win 6 fabulous products ($112 value); enter @MyBusyChildren http://bit.ly/kdlUrJ      Leave a comment here with your Twitter name. (1 entry per day)
Blog about this giveaway. Leave 3 comments with a link to your post. (3 entries)
Subscribe to My Busy Children by email here or via Feedburner. Or subscribe to the RSS feed. Leave a comment indicating how you subscribed (1 entry)
This Giveaway ends on May 23, 11:59pm EST, 2011. The winner will be chosen randomly. I will email the winner, who will have 72 hours to contact me or a new winner will be chosen.
This giveaway is closed.
The winner is #149 – Deanna G.; Deanna G. says:  Submitted this giveaway to the giveaway linky at A Nut in a Nutshell(#289 on the linky): http://www.anutinanutshell.com/2011/05/saturday-giveaway-parade-521/
Review/giveaway disclaimer: I received no product or monetary compensation for this review/giveaway.