Birthday Party with Princesses in Atlanta
Both of my girls are absolutely enamored with princess stories. My daughters are particularly in love with Cinderella and Snow White. They have been asking me for the past year when will these princesses come visit them. I responded that it will happen on Masha's fifth birthday. Since they pretty much asked every day, I started a search for princesses in the Atlanta area a few months ago. Apparently, some princesses do live around Atlanta.  When the magical day arrived, princesses from Mystical Parties came with an entertaining program full of activities for the entire birthday party.
The girls loved that the princesses dedicated their entire time to them at the party. They were used to standing in line for at least forty minutes to greet princesses on our  Disney cruise.  They were happy to stay with these princesses for an hour an a half.
The princess program started with princess lessons. They taught them how to curtsy, dance, do a princess wave, and many more "princessy" things I have not yet mastered:
The next step in the program was face painting. Masha picked out a design from a book, while Lana made up her own face painting design. She wanted a cupcake on her cheek.
While the princesses were getting ready for face painting, Masha told them that her favorite part of a birthday party is the cake:
Masha seems happy with her choice of design.
The balloon part of the program was a big hit.  Every child got a balloon animal or a flower to play with and take home:
While Masha was playing with her newly created balloon animals, Lana demonstrated her dancing skills to the princesses:
The princess program included all the activities described here. It was pretty flexible though. We added a part where everyone took pictures with the princesses. No girls wanted to leave the party without posing with Cinderella and Snow White. Even Mommy got in the picture: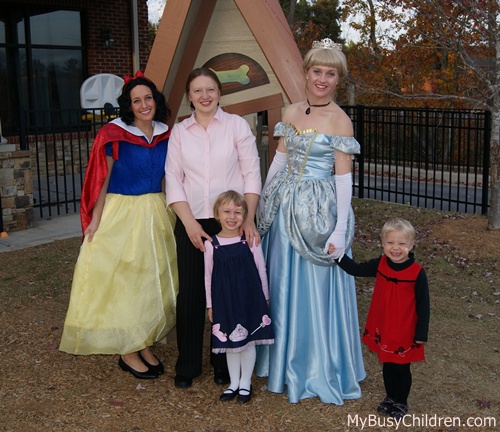 Picture taking was followed by a pizza, princess story time, and a cake:
The very last part of the princess party at Recess by Charley was crowning the birthday girl. The Birthday princess also received a little gift bag with girl jewelry and a Cinderella shoe.
"How are you going home", she asked the Cinderella and Snow White. "Are you going to fly"?
The princesses told a story about invisible, enchanted carriages that are waiting for them outside. The girls believed them. They are waiting for the next princess party now.
Disclaimer: I received no free services or monetary compensation for this review.
Tags: Birthday in Atlanta