BISSELL cordless sweeper Gіveaway
BISSELL Perfect Sweep Turbo sweeper is designed for a quick clean-up. I love all its features:
Up to 60 minutes of cordless cleaning time – We did not have to charge the sweeper yet even though I have used it for several days to clean up the rooms.
Safe on carpet, rugs and hard floors – I like that it even little rugs can be cleaned safely without sucking in the rug on the sides
Edge brushes for cleaning along baseboards and in corners – this is really convenient, especially for the places where the vacuum cleaner cannot reach.
Handle lies flat to reach under the furniture – cleaning under the beds and couches just became easier.
I like that I have a better control over what is picked up as opposed to cleaning with a regular vacuum cleaner. This is particularly important for cleaning the kids' room. Also, if one of the Polly Pocket toys gets inside the sweeper, it is easy to see because the entire top of the sweeper is transparent.
Even though BISSELL Perfect Sweep Turbo sweeper is designed for use by adults, kids could not wait to use it. In general, they like to claim ownership of things that are fun and easy to use (read: iPad, iPhone, Bissel sweeper).
Our princesses do not usually volunteer to clean the floors. However, with appearance of a new fun and, of course, magical, cleaning device, they took turns with the cleaning process. Moreover, they even picked up all their clothes and toys off the floor in the hope to use the sweeper.
Right when the princesses (Cinderella and Aurora, as we were told) were almost done with cleaning up their room with the sweeper, I realized that I can make the handle shorter for the little one. That made the sweeper the perfect size: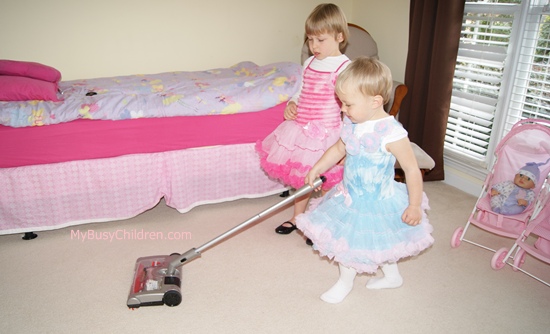 The handle can lie low so they could clean up under the bed. While one of them was holding the bed skirt, the other princess swept underneath the bed:
The sweeper also turns into a hand held devise, which works great for picking up dirt in the corners and in hard-to-reach places:
I like that it is easy to turn the sweeper on and off with a foot. The button is big and easy to see, as opposed to some other sweepers I had, when the button was hard to find in the middle of the handle.
Perfect Sweep Turbo® Cordless Rechargeable Sweeper retails for $39.99 and can be found on Amazon, Wal-Mart, Target, Lowe's, Macy's, Best Buy, and Gettington.
For a limited time, you can get $5 OFF a BISSELL Perfect Sweep Turbo on bissell.com. Just add BISSELL Perfect Sweep Turbo sweeper to your cart and use the code "perfectsweepPARK" at checkout to redeem.
The Gіveaway:
One lucky reader will wіn a Perfect Sweep Turbo® Cordless Rechargeable Sweeper.
Gіveaway open to U.S. addresses only. No P.O. Boxes.
Please use Rafflecopter form below to enter the giveaway.
This Giveaway ends on March 1st, 11:59pm EST, 2012. The winner will be chosen randomly via Rafflecopter. I will email the winner, who will have 48 hours to contact me or a new winner will be chosen.
Review Disclaimer: I received Perfect Sweep Turbo® Cordless Rechargeable Sweeper for review purposes. I received no monetary compensation for this review. This post contains affiliate links.