Easy chicken tenders
August 13, 2011

Filled under

Recipes
My kids are hard to convince to eat meat. They are big fans of chicken nuggets though since those are so easy to chew. I, however, am way to reluctant to buy chicken nuggets at a fast food place or even frozen knowing that they are made from mechanically separated meat with a bunch of artificial additives. Therefore, I came up with my own version of chicken nuggets/chicken tenders.
Here are the steps to make easy chicken tenders:
1. Cover the bottom of a shallow dish with breadcrumbs.I prefer to make my own breadcrumbs, mostly because I always have leftovers of whole wheat bread I get at Whole Foods Market.
 If you use store bought breadcrumbs, check that they are whole wheat and don't have any additives like hydrogenated oils or monoglycerides.
2. Prepare egg mixture: beat two or three eggs with a dash of salt.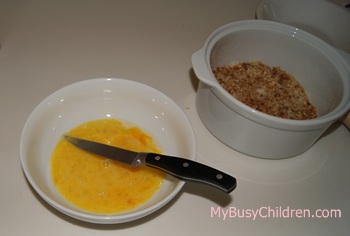 3. Butterfly chicken breasts. It is important to have a thin piece of chicken to make sure it will be tenderized well.
4. Use your meat tenderizing hammer to tenderize chicken from both sides
5. Coat each tenderized chicken piece first in the egg mixture, then in the breadcumbs
6. Cook chicken pieces in oil in a single layer, about three minutes on each side. Alternatively, you can cook one minute on each side, transfer to a baking sheet and finish the cooking process in the oven.
From here you can cut up these chicken tenders into thing strips for your toddler, into thicker strips for your preschooler or serve with pasta, some Marinara sauce and melted Mozarella on top for everyone else.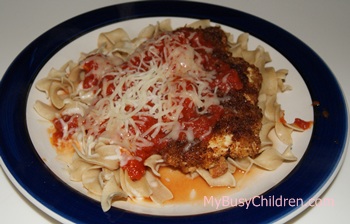 The advantage of these tenderized chicken tenders is that they are much easier for younger kids to chew as opposed to traditionally cooked chicken breast.
If you are dieting for weight loss, you may not be able to enjoy this delicious recipe. Whether you eat your chicken atop pasta or steamed broccoli, sprinkling Sensa over your meal will help you feel fuller faster, leading to fewer calories consumed.
Special thank you to Zaycon Foods for providing chicken for this and many other recipes. Zaycon Foods brings fresh meats and other products directly to consumers at wholesale prices. Zaycon Foods brings products directly from the farm/processor. The products are as fresh as if you had your own farm.
Zaycon Foods sells chicken and other products by cases from a refrigerated truck. Chicken is sold at sales events for which all the details, including date, time, and location are posted on the Zaycon Foods website.
Tags: Zaycon Foods