Guacamole and its ingredients (giveaway – 4 winners)
I have mostly stayed away from prepared Guacamole sold in stores. The green mixture of oils, preservatives and starches, artificially colored and flavored, looked not only unappealing, but terrifying after I read the label. The ingredients list violated several points on my checklist, for example: 
Mono and diglycerides – another word for hydrogenated oils
Monosodium Glutamate  – the full name for MSG
Sodium Benzoate and Artificial colors – both have been known to increase hyperactivity in kids
And many more hard-to pronounce chemicals
Recently I saw a package with guacamole next to fresh vegetables stand. I wondered why that was and glanced at the ingredients. The newly found guacamole had only a few ingredients, no artificial additives or preservatives. How do they manage to keep this guacamole fresh, I wondered. And what is "Fresherized", anyway? The answer was on the EatWholly.com:
Wholly Guacamole is Fresherized. It's a process of preserving foods through the use of high-pressure water rather than with heat or chemicals and is used in the preservation of some meats and vegetables. With guacamole, the end product is a completely 100% all-natural, fresh tasting product that can be refrigerated for weeks and frozen for months.. 
Since then I always grab a couple of packages of Wholly Guacamole whenever I am grocery shopping. They are great for countless recipes and simple snacks for both adults and kids.
If you still wonder, how the ingredients in Wholly Guacamole differ from ingredients in some other brands, take a look at this comparison.
For the purpose of this comparison, I picked a random Guacamole Dip, sold in grocery stores.
Note, that I used the word "imitation" for the purpose of the comparison only. This Dip did not have the word "imitation" anywhere on the label.
Comparison of ingredients:
Comparison of the nutritional value of real vs. imitation guacamole:
To be scientifically correct, and make serving sizes comparable, you would need to add 3.4% to all numbers on the "imitation guacamole" Package.
Numbers speak for themselves. No wonder, Wholly Guacamole is a partner of the Biggest Loser.
In addition, you can see that Wholly guacamole has "good fats" as opposed to "bad fats" present in the imitation guacamole.
Needless to say, Wholly Guacamole is by far the best Guacamole I have ever tried.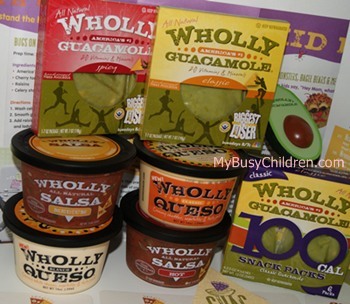 The Giveaway:
One lucky reader will receive a cooler full of Wholly products as on the picture above (2 tubs of Salsa, 2 tubs of Queso, 3 packages of Guacamole).
Three other lucky readers will receive a free product coupon.
This giveaway is open to U.S. addresses (no P.O. boxes).  
To participate in the giveaway, you could do any or all of the following:
Leave a comment – what are your main criteria when buying guacamole in the store? (1 entry)
Leave a comment – what recipe would you like to make? (1 entry)
Like Wholly Guacamole on Facebook. Leave a comment here with your Facebook name.  (1 entry)
Follow Wholly Guacamole on Twitter. Leave a comment with your Twitter name (1 entry)
Submit this giveaway to any sweepstakes site or giveaway Linky. Leave one comment with a link each time you submit. (1 entry per submission/link; unlimited entries)
Blog about this giveaway. Leave two comments with a link to your post. (2 entries)
Tweet about this giveaway.  #win @eatwholly Salsa, Queso, and guacamole; enter #Giveaway @MyBusyChildren http://bit.ly/k8icWP  Leave a comment here with your Twitter name. (1 entry per day)
Join me on Google Friend Connect (left sidebar). Leave a comment here (1 entry)
Like me on Facebook. Leave a comment here with your Facebook name.  (1 entry)
Follow me on Networked Blogs. Leave a comment here that you follow (1 entry)
Follow me on Twitter. Leave a comment with your Twitter name (1 entry)
Subscribe to My Busy Children by email here or via Feedburner. Or subscribe to the RSS feed. Leave a comment indicating how you subscribed (1 entry)
This Giveaway ends on June 12, 11:59pm EST, 2011. The winner will be chosen randomly. I will email the winner, who will have 72 hours to contact me or a new winner will be chosen.
This giveaway is closed.
The grand prize winner (cooler with eatwholly products) is #385 – Brittany Rebello; Brittany Rebello says: google reader subscriber
Coupon winners are
344 – tina page; tina page says crawfish quesadilla recipe looks awesome
231 Steph; Steph says: Daily Tweet http://twitter.com/mnsteph/status/79167644502204417
217 christy; christy says: it has to have simple ingredients and be fresh for me to buy it!
Review/giveaway disclaimer: I received no monetary compensation for this review/giveaway. I received Wholly Guacamole products for review purposes.   
Tags: wholly guacamole review