High Fashion from Redfish kids
My fashion style is largely influenced by European trends, probably mostly because I used to live in Germany and Russia. Kids clothing influenced by Asian styles was something new to me. Redfish Kids Clothing, which we recently became fans of, was inspired by the street fashion of cities like Hong Kong, Shanghai, and Tokyo.
The fusion of styles, coupled with comfort and quality, resulted in creating simple lines of kids clothing, constructed for growth, movement, and versatility.
Redfish Kids slogan is "Clothing for the courageous".  This clothing was created as a symbol of commitment to children and a celebration of their courage, bravery and unlimited potential to shape the future of our world.
Redfish clothing uses bright colors and bold patterns to create outstanding children's clothes. Redfish Kids Clothing can be easily layered and worn together. All clothes are machine washable and made from pre-washed durable materials.
I like the bright colors, with a large array to choose from. It is nice to take a departure from the overwhelming pink color marketed for girls everywhere else.
It was also refreshing to try out only black and white for my preschooler. She was happy with her look and we went off to see a performance together.
The Kelly Skirt on the picture below is twirly and stylish. The zipper and fabric belt keep the skirt in place. The skirt is made of 100% pre-shrunk cotton.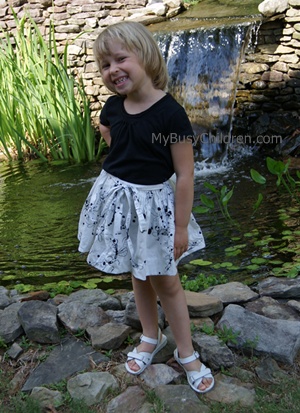 Pocket Jean are made from Vintage Denim with full leg, the jeans have adjustable waist, are comfortable and trendy: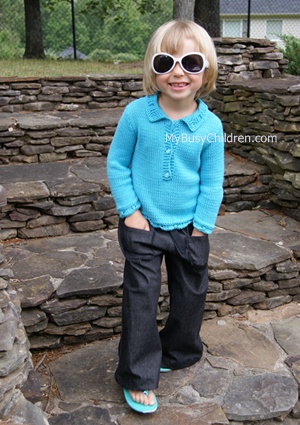 The sweater on the picture above was actually designed and knit by my Mom. I though it would go well with the Redfish Jeans.
Have you noticed how my little model cut a chunk of her hair on the left? She explained that she was not happy with her hair style. Speaking about haircuts, my 2-year-old got her very first haircut today. Her blonde thin hair just does not grow happily.
Disclaimer: I received Redfish Kids Products for review. The opinions are my own.
Tags: Redfish kids review