Mega Blocks party, song, and dance
What could be more fun than Moms and kids getting together to create and build together. Moms and kids had a great time with Mega Blocks at our party.
Building with Mega Blocks  is a great way to develop imagination. The blocks always come in a carrying bag or in a box, which helps to keep the blocks together and makes clean up time a breeze.
I noticed that when Moms play with kids and show them how to build different structures, kids are not only more excited about the toys, but they play longer and with more enthusiasm after moms leave.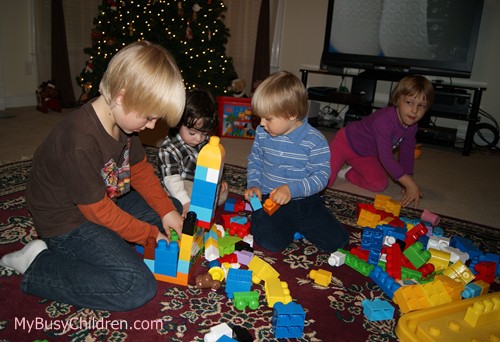 To make things even more fun, each child got to take home a Jungle Friends or Garden Friends bag full of Mega Bloks.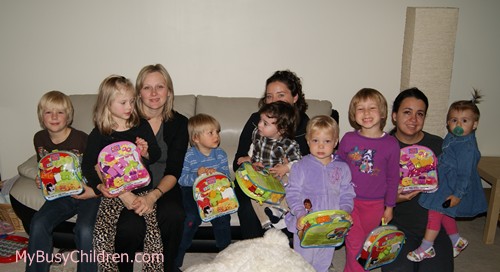 Some of the guests got carried away and tried to run away with two gift bags:
Even the youngest kids were busy playing with Mega Blocks. They certainly were fascinated by the blocks tub. They were thinking about climbing in, but decided to get the blocks out first:
We had plenty of food for everyone. I could only think of two types of food that looks like blocks, though: cut up pineapples and cheese cubes.
While everyone was eating, Lana performed a dance next to the Christmas tree:
Masha later sang a Megablocks song that we created together.
If you did not catch the words to the song, here they are
Mega blocks: We party and play
Mega blocks: We love to build every day
Mega blocks: The fun never ends
Mega blocks: For us and our friends
Disclaimer:  MommyParties and BSM Media provided us with a Mega Blocks tub as well as gift bags for the guests.