Piano recital. I really want a piano now
Masha had her first piano recital. This was the first time she was not scared to perform on stage. Last year she refused to perform on the stage and we skipped her dance recital altogether. This year she confidently walked to the center stage, curtseyed and proceeded to play.
We literally practiced for hours before the big performance. Her two songs were extremely simple, though. She started attending classes in January and had only one class a week.
She was practicing on her little Schoenhut piano.
Some kids played really well. After the recital I got the idea that we need to buy a real piano. After all, I could use it myself. It has been years since I played a piano.
Now I need to figure out how to buy a piano. I looked on Craigslist. I looked at the prices in the store. My jaw dropped. I had no ideas pianos could be that expensive. Masha's teacher suggested getting a Piano book which should help in the process.
Overall, Masha was happy with her performance. She did say that she was hoping for a better present. She noted that a cup (which was in fact, a trophy) and a piece of paper (aka "achievement certificate") are not that fun to play with.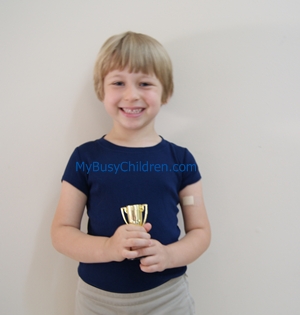 Are you busy with graduations and recitals this month? Do you have any tips for buying a piano?
Mister Linky's Magical Widgets — Auto-Linky widget will appear right here!
This preview will disappear when the widget is displayed on your site.
For best results, use HTML mode to edit this section of the post.