Safety 1st Rümi Air Car Seat/Booster Giveaway
When it comes to car seats, safety is by far the most important factor in selecting the product. Comfort, ease of use, add-on features, and values come right after as the main criteria in choosing a car seat. Safety 1st is a company that continually delivers safe, innovative, and valuable products, including car seats, strollers, monitors, high chairs, home safety products, and more. We particularly like the Safety 1 collection designed specifically for girls, where all products have a pink hue.
Our newest product from Safety 1st is a Rumi Air Harnessed Booster.
The Rümi Air features Air Protect® Side Impact Technology and combines this with FlexTech™ – a state-of-the-art energy management design that offers additional protection.
Air Protect®, developed using the advanced Dorel/Kettering testing method to simulate real-life side impacts, provides greater energy absorption and head containment in the most severe impacts; where intrusion into the passenger compartment occurs. For customized safety, the easy-adjust 12-position headrest of the Rümi properly aligns the Air Protect system with the child's head, where it's needed most.
The seat can accommodate a child from 22 to 65 pounds as a car seat with harness and a child from 40 to 100 pounds as a belt-positioning booster. I am happy that both of my kids can sit in the same car seat, even though they are two years apart:
Moreover, the seat height can be adjusted to 12 different positions. All it takes is to push one button with one hand for 2 seconds and the headrest is in the position which fits best for your child at every stage of growth:
We found the thick and soft cushions on the side not only as a great feature for safety, but also very convenient for resting a child's head, and especially for sleeping. Take a look how wide the side cushions are: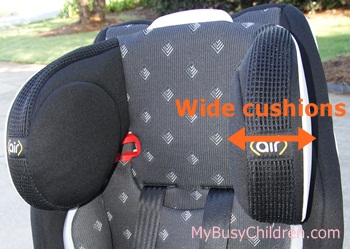 The deep cup holder and snack tray are integrated with the arm rests. It is comfortable for the kids to have a wide arm rest and have their snacks and a drink handy. We have also used a snack tray to hold washable markers and small toys.
We also liked the high quality fabric used for the seat cover. It dries quickly and the air filled material prevents kids from sweating, even if we get in in a hot car, and it takes a while for the air conditioner to reach the set temperature level.
In addition, the harness belt system is safe and secure, neither of my kids could unlock the harness. "Mommy, I can't unbuckle myself", declared my older daughter.
Other great features include
QuickFit™ Harness means no need to re-thread
Color-coded belt paths for easy installation
1-Click LATCH installation system; Convenient, built-in LATCH storage
The Rümi Air seat combines safety, comfort, style and value. You can buy a Safety 1st Rumi Air Harnessed Booster at Babies R Us only for $149.99.
The Giveaway:
One lucky reader will win a Safety 1st Rumi Air Harnessed Booster.
This giveaway is open to U.S. addresses. No P.O boxes
To participate in the giveaway, you could do any or all of the following:
Visit Safety 1st.  Leave a comment with another item you like (1 entry)
Like Safety 1st on Facebook . Leave a comment here with your Facebook name. (1 entry)
Follow Safety 1st on Twitter. Leave a comment with your Twitter name. (1 entry)
Like me on Facebook. Leave a comment here with your Facebook name. (1 entry)
Tweet about this giveaway. Win @Safety_1st Rumi Air car Seat/Booster (ARV $180); enter #Giveaway @MyBusyChildren http://bit.ly/nJDtuJ     Leave a comment here with your Twitter name. (1 entry per day)
Submit this giveaway to any sweepstakes site or giveaway Linky. Leave one comment with a link each time you submit. (1 entry per submission/link) 
Join me on Google Friend Connect (left sidebar). Leave a comment here (1 entry)
Follow me on Networked Blogs. Requires Facebook account. Leave a comment here that you follow (1 entry)
Follow me on Twitter. Leave a comment with your Twitter name (1 entry)
 Subscribe to My Busy Children by email here or via Feedburner. Or subscribe to the RSS feed. Leave a comment indicating how you subscribed (1 entry)
This Giveaway ends on August 21, 11:59pm EST, 2011. The winner will be chosen randomly. I will email the winner, who will have 72 hours to contact me or a new winner will be chosen.
This giveaway is closed.
The winner is  #1026 Kim D; Kim D says: I posted linky #3 at http://www.dustinnikkimommyofthree.com/giveaway-linky
Review/giveaway disclaimer: I received no monetary compensation for this review/giveaway. I received Safety 1st Rumi Air Harnessed Booster for review.