Has it snowed in Atlanta this July?
I recently took my kids to a shopping promenade. We were planning to stop by at a Story Time event at Barnes and Noble and walk around the fountains.
The fountain turned out to be a bubble bath.
I don't know why someone would dump a load of soap in a fountain.
The foam was everywhere: on the grass, in the bushes, surrounding the trash can… You would think it snowed in Atlanta in the middle of the summer.
Not sure how bad the effect on the environment was, but I can't think it was quite positive.
It was windy and the foam pieces were taking off and flying in the air.
How would you like to have shopped in an "haut couture" clothing boutique, all proud that you managed to get that designer dress for 50% off and suddenly get hit with a foam ball in the face?
You may think that my kids were to blame for the flying foam since they were throwing it around.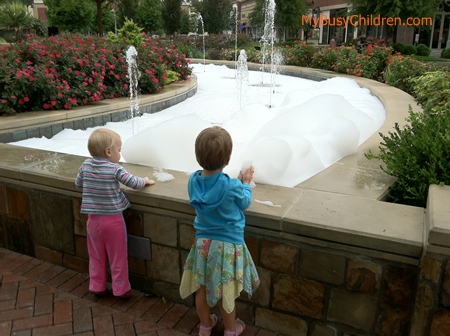 However, they found an alternative way to dispose of their foam clouds. They were busy washing a boy who was sitting nearby. The girls duly noted that the boy has not taken a bath (at least, not with soap) for months. Both girls were helping diligently with the washing.
Should I be taking hints and making them wash floors at home with the foam?