Children's clothing from Tea Collection: Review and Giveaway
My girls and I became big fans of Tea Collection  – designer Girl's clothing  I love this line of children clothing for simple elegance, calm and exquisite colors, high quality, and extreme comfort.
Tea collection clothes are perfect for going to the parties, but comfortable to wear every day. Comfort is very important to me since my four-year-old spend many hours wearing the same clothes in her daycare center.
I like Tea collection clothes for their taglessness. No matter how many times I wash these clothes, the printed tag remains as smooth as the day I bought it.
Tea collection Children's clothing is perfect for exercising. Take a look at my four-year old working out in the kids gym:
I have special feelings for the Tea Collection Girls Pants. They are stylish but comfortable and stretchy. Every time I buy any other kind of stretchy pants for my four-year-old, they are too tight in the waist when she sits down. Tea collection pants fit perfectly. I like that stretchy pants with elastic are available as both leggings and wide legged pants.
I like "may we suggest" feature when shopping for  Girl's clothing online. It works great for locating items that match pants and shirts I pick.  I would recommend to add a button "more suggestions" to see what else might go well with the piece I am looking at.
I strongly believe that it is better to buy one high quality long lasting shirt than a low quality cheap looking shirt which will fade and stretch after a few washes. All Tea Collection girls clothes are machine washable and easy to care for. I wash these clothes every day but they never lost their color or shape.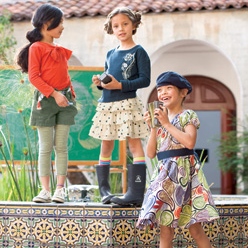 Take a look at these amazing Coordinating Wardrobe sets.  These sets include between two and six pieces: skirts, pants, dresses, and shirts, which all match perfectly. You can mix and match these separates and create multiple coordinating outfits. Basically, you can get one of these matching sets, and be done with shopping for your daughter's clothes this season. Boy's coordinating wardrobe sets are just as adorable.
The Giveaway:
Tea collection is generously giving away a  $50 gift certificate  to one lucky reader to use in the Tea collection online store.
This giveaway is open to U.S. only.
To participate in the giveaway, you could do any or all of the following:
Visit Tea collection. Leave a comment with an item you like (1 entry)
Join Tea Collection on Facebook . Leave a comment here with your Facebook name. (1 entry)
Follow Tea Collection on Twitter. Leave a comment with your Twitter name. (1 entry)
Join Tea Collection by email: subscribe to the newsletter on the bottom of the page. Leave a comment here. (1 entry)
Leave a comment on any of my posts. Leave a comment here with a post name. (1 entry)
Be my friend on Facebook. Leave a comment here with your Facebook name.  (1 entry)
Join me on Google Friend Connect (left sidebar). Leave a comment here (1 entry)
Follow me on Networked Blogs. Requires Facebook account. Leave a comment here that you follow (1 entry)
Blog about this giveaway. Leave one comment with a link to your post. (2 entries)
Follow me on Twitter. Leave a comment with your Twitter name (1 entry)
Submit this giveaway to any sweepstakes site or giveaway Linky. Leave one comment with a link each time you submit. (1 entry per submission/link)
Tweet about this giveaway. #win $50 gift certificate from @Teacollection – designer Children's clothing – enter #Giveaway @MyBusyChildren http://bit.ly/tea50  Leave a comment here with your Twitter name. (1 entry per day)
Subscribe to My Busy Children by email here or via Feedburner. Or subscribe to the RSS feed. Leave a comment indicating how you subscribed (1 entry)
This Giveaway ends on January 28th, 11:59pm EST, 2011. The winner will be chosen randomly. I will email the winner, who will have 72 hours to contact me or a new winner will be chosen.
This giveaway is closed. The winner is #108  – Bethany
Review disclaimer: I received no monetary compensation for this review/giveaway. I received Tea Collection gift card to review the products. The opinions are entirely my own.