They want to be little again
A few days in a row Masha told me she wants to be little again (never mind that she just recently turned four). You ARE little, we tell her. She seems to believe it for a while.
She even cried the other day. I am crying because I want to be little, – she said  
I think it started the moment the baby was born. These pictures were made two years ago. The Baby was  4 months old.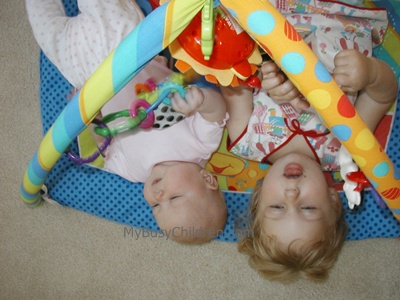 And here is the two-year old Masha is  pretending to sleep in her baby sister's crib. Note that she has a toy, a pacifier, and even a baby blanket.
Now "the baby" Lana wants to pretend she is a baby too. She "almost" fits in her old walker and a bouncy chair. Excuse her chocolate covered lips.
Suprisingly, Masha still fits in a bouncy chair as well.
I wonder if my 4-year old feels that she is not getting as much attention as the 2-year old. Or she just likes playing a game of pretending to be little?