UV protecting Baby Banz flap hat (giveaway)
Sometimes it seems that if my kids could, they would stay outside the entire day.  Other times, they get glued to the TV or iPad and I need to slowly transition them outside with help of bubbles, chalk, or promise that we will play "hide and seek".  
I am, however, concerned, about the abundance of UV exposure and direct sun heat danger. After having gone through a large assortment of hats, I concluded most of them slide on girls' eyes, do not protect their necks, or fall off alltogether.
We love our new Baby Banz flap hat which offers maximum protection for face and neck. It is also is very comfortable to wear. My preschooler likes it also because it is stylish and looks like Mommy's and Daddy's baseball hats.
My daughter takes her Bay Banz hat everywhere with her. She can even wear the hat in the water. The hat stays on her head the entire time she is in the pool. Even if Baby Banz flap hat gets wet, it dried very fast.
The hat comes in three sizes to ensure best fit.
Baby Banz Protection Collection includes adjustable baby and toddler sun hats, UPF 50 swimwear and flap hats, Retro Banz and for winter Ski Banz.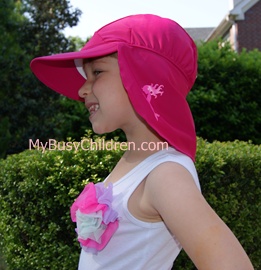 Banz swimsuits were designed in Australia for one of the world's toughest UV environments. One Australian's fruitless search for a proper pair of baby sunglasses for his infant son forced him to take action, leading to the development of the Original Baby Banz sunglasses.
All Banz swimwear has been clinically tested to a rating of UPF 50+.
The Giveaway:
One lucky reader will win a Baby Banz Flap hat. Winner can choose size and color (pink or blue).
This giveaway is open to U.S. addresses (no P.O. boxes). 
To participate in the giveaway, you could do any or all of the following:
Visit Baby Banz.  Leave a comment – what other product do you like? (1 entry)
Submit this giveaway to any sweepstakes site or giveaway Linky. Leave one comment with a link each time you submit. (1 entry per submission/link; unlimited entries)
Blog about this giveaway. Leave two comments with a link to your post. (2 entries)
Tweet about this giveaway.  #win BABYBANZ flap hat; enter #Giveaway @MyBusyChildren http://bit.ly/iAPsNq  Leave a comment here with your Twitter name. (1 entry per day)
Join me on Google Friend Connect (left sidebar). Leave a comment here (1 entry)
Like me on Facebook. Leave a comment here with your Facebook name.  (1 entry)
Follow me on Networked Blogs. Leave a comment here that you follow (1 entry)
Follow me on Twitter. Leave a comment with your Twitter name (1 entry)
Subscribe to My Busy Children by email here or via Feedburner. Or subscribe to the RSS feed. Leave a comment indicating how you subscribed (1 entry)
This Giveaway ends on May 29, 11:59pm EST, 2011. The winner will be chosen randomly. I will email the winner, who will have 72 hours to contact me or a new winner will be chosen.
This giveaway is closed.
The winner is #29 – michelle robbins; michelle robbins says: I'm following you on twitter. dandmrobbins
Review/giveaway disclaimer: I received no monetary compensation for this review/giveaway. I received a Baby Banz Flap Hat  for review purposes.