Where to go with kids in Charleston
A couple of weeks ago we travelled to a wedding in Charleston, SC. 
Since we have been in Charleston before, the first thing we wanted to show the kids was the Waterfront Park with its amazing view and fountains.
It never occurred to me to bring bathing suits or water shoes for the kids. So they ended up standing next to the fountains wishing they could jump right in and start splashing with the other kids.

The view from the pier was breathtaking. Both kids wanted to sail away on a cruise ship.
If we lived in Charleston, we could go on a cruise every month. It would be so easy: no flying to a depature port.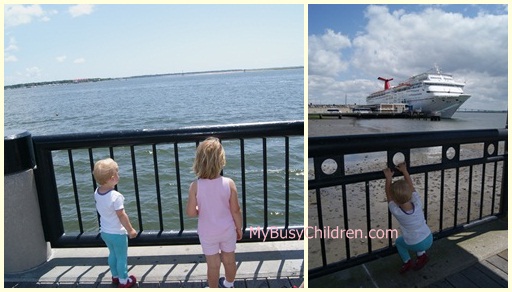 Lesson Learned:
Bring bathing suits, water shoes, and sunscreen.
———————–
Next on our list was the Children's Museum Of The Lowcountry ( 25 Ann Street, Charleston, SC 29403) where the kids could play and learn at the same time.
My preschoolers were mostly interested in playing.
They played with water, on the Pirate Ship, and with rolling balls, but shopping in a mini Charleston market, was an activity they could not give up for an hour.
Lessons learned:
Explain my toddler that play food is not for eating but for playing only BEFORE she steps into the Charleston super market
Plan to stay for longer than an hour since there is a lot to do. Plus it was somewhat expensive for a family since adults need tickets too, not only kids (the rate is $7). However, compared to rates to the Atlanta children's museum ($12.50 plus tax), 7 dollars was a steal.
Park in the adjacent Bank of America parking deck.  My husband drove around for almost 30 minutes on a Saturday afternoon looking for meter parking on the street.  When he finally realized the deck was available for public parking.  The Museum would not let him enter alone (without children) as a safety policy.  The deck was cheapest public parking option we found in downtown Charleston (outside of metered parking).
———————–
Middleton Place is not a typical "visit-with-kids" kind of place, but I would like to put it here because of the open spaces, perfect landscapes, beautiful horses, and a breathtaking view.
Middleton Place is home to America's Oldest Landscaped Gardens. The Gardens have been planned so that there is something blooming at all year-round.
Lessons learned:
Bring comfortable closed toe shoes for kids to walk on dirt paths and run on the grass.
Our four-and-under girls really enjoyed themselves and did not want to leave Charleston. "We are going home now", we said. "What home?", asked Lana.
Have you ever been to Charleston? What places are your favorite?
Link your Wordless Wednesday Posts here: