Chore charts for kids #Giveaway. 2 winners
"Let's play that game with tasks again today", suggested my preschooler. "Good idea", I thought, "I need to remember to present chores to kids as games".
For the first time ever we were experimenting with using a chore chart for my preschooler. This chore checklist did look like a board game with colorful reusable stickers:
We are using a Create-A-Chart Kit  which can be customized: parents can pick out up to 6 tasks from a set of 16 tasks for their child.  We picked the tasks of vacuuming, doing laundry (which means folding the clothes), putting away the dishes, which both kids enjoy doing, and a "Mommy helper" task.
First my preschooler wanted this to be a family chart: "Mommy, did you vacuum today already? Yes? Ok, lets put a sticker in the vacuuming checkbox.":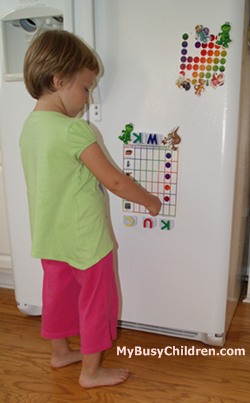 Then she grasped the concept that the chart is hers and only hers. Not even to be shared with her sister. She diligently went through the list.
"Do we have any laundry to fold?" Of course, we do, the whole couch full of clothes, ready for folding. She made herself comfortable and created a few piles.
She asks what she can do to help Mommy since the square of "Mommy helper" was still empty. "Could you help dress your little sister?", I asked since we were getting ready to go to the park. Ten minutes later she came to me and handed me a set of clothes, socks, and shoes: "If Lana runs by, catch her, because I can't".
 She still got a sticker for trying – dressing our two year old sometimes is challenging even for me.
This chore checklist is working very well for us. The chore lists or jobs to be done are easily assigned because they are printed on static cling vinyl for easy selection of the assignments that best suit your child. Additional chore checklist items can simply be written in with the included write on wipe off crayons.
The colorful matching rainbow stickers make marking the chart fun to see the full rainbow take shape as the jobs are completed with a smile.
Other Creative Changes products include a Potty Chart (too bad I did not know about it when I was potty training my kids), Family Job Chart (a must when my kids get a little older), homework chart, and many others. The best thing is that these charts are very affordable.  Child's job chart, for example, costs only $1.95!
I am thinking I would also need to find a "going to bed" routine chart to make our bedtime routine easier. It would include laying out clothes for next morning, brushing teeth, taking a bath, and one story. Now when I think of the evening routine, a chart for a morning routine would help too: breakfast, teeth brushing, making the bed, getting dressed, and putting shoes on. This should make my mornings easier, don't you think?
The Giveaway:
TWO lucky readers will win a Create-A-Chart Kit 
Create-A-Chart Kit includes:
1 Create-A-Chart
1 Set of Reusable Rainbow Stickers
1 Set of Reusable Job Stickers
2 Wipe-off Crayons
This giveaway is open to U.S. addresses. No P.O boxes.
Please use Rafflecopter form below to enter the giveaway.
This Giveaway ends on October 21, 11:59pm EST, 2011
Review/giveaway disclaimer: I received no monetary compensation for this review. I received one Create-A-Chart Kit  for review.