Little Angels Valentines Party for kids
I never made that strawberry mousse I was planning to, but the party turned out well nevertheless. I am still planning to post the recipe, so stay tuned.
My older daughter loves getting ready for parties. She set up tables for kids herself. She made crescent rolls with orange marmalade and poppy seeds. She even cut up beets for a dressed herring salad. The only thing I did not trust her with is hanging balloons off the ceiling – that was all me.
We started the party with making Angel Picture Frames. Moms helped just a little. The frames turned out beautiful:
Then all the kids, and even some moms, turned into Little Angels themselves: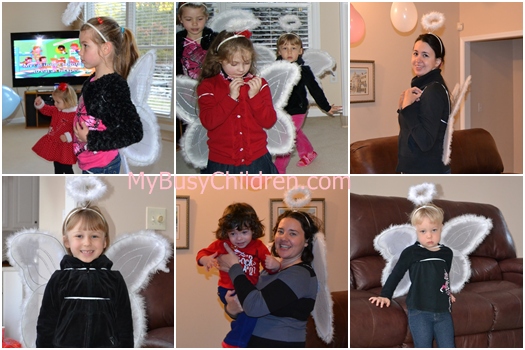 All kids danced to the Music from the Little Angels ABC's DVD, an animated DVD series and has been created for pre-school aged children to teach practical learning skills like ABCs and numbers. Kids loved the Little Angels from the program and pretended they were the Little Angels themselves visiting Alex and Zoe.
Aren't these Little Angels adorable?
I must say both Moms and Kids were impressed with our decorations and home made treats.
Girls also worked with the activity sheets. It is such a great idea to introduce Little Angels activity sheets. Some kids prefer to watch their favorite, familiar shows as opposed to new shows. However, after working with the activity sheets, kids could not wait to watch a show about the characters they were just coloring. As a Mom, I liked that all the letters in the ABC's Program are introduced via associations, for example – "H" looks like a back of a chair. It is so much easier for kids to remember this way.
We also played a "Get Your Trash Off My Yard" game with balloons where kids need to throw all the balloons from their part of the court to the other side. The team with fewer balloons wins. A plastic table cover served as a court divider.
After the kids left, my daughter started working on the Valentines cards for her class. This is what she took to school today:
How are you celebrating Valentine's Day?
Disclaimer: I received promotional items to facilitate a Little Angels Party.
Tags: Little Angels