Strawberry Mousse for a Little Angels Party
I have never hosted a Valentine Party for little kids before, but I am planning one this year. The theme of the party is Little Angels. Little Angels  is an animated DVD series and has been created for pre-school aged children to teach practical learning skills like ABCs and numbers.
The hardest of planning a kid's party is food for kids. It has to be something they would eat –  kids are so picky these days. And then, it should be colorful, but without artificial colors.
Here is the desert we came up with: a strawberry mousse. It is sweet and fluffy, and so easy to make from only three ingredients: strawberries, sugar, and gelatin. I am still working on the ingredients ratio to make it perfect. But my kids love it every time they get to make it. The hard part is waiting for an hour until it gets firm. Masha got to cut it first thing in the morning: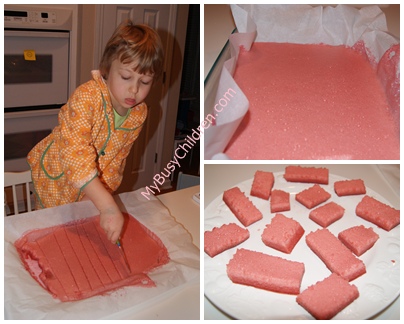 The other important part of a kid's party is activities. This time it will be easy, though.  Little Angels provided activity sheets, coloring pages, Valentine cards, picture frames, and more activity ideas.  We may add a couple of active games to the list, like Musical Chairs to the tune of Adam's song in the Little Angels iPad App.
Stay tuned for a report from our party. In the mean time, we are looking forward to the Valentine's party and to watching LITTLE ANGELS ABC's, LITTLE ANGELS ANIMALS, and LITTLE ANGELS 1, 2, 3's DVDs, which will be available on February 14.
Are you planning a Valentine Party?
Disclaimer: I received promotional items to facilitate a Little Angels Party.