A fairy Hobmother grants a wish
A fairy Hobmother visited us. The one who spreads sweetness and light.
The girls are excited too. They love fairies and any other sweet magical creatures. The other day they told me they are fairies themselves. For that reason, they will fly around the neighborhood at night looking in the windows checking if the kids are behaving. Sometimes the meaning of a "fairy" gets mixed up with "a scary witch", which is what you can see here: A fairy outfit with some scary witch spells.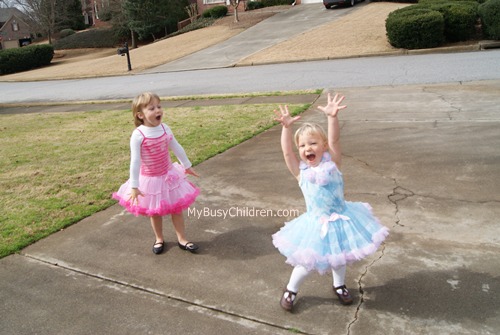 A Tooth Fairy has not visited us yet, although I have a tooth pillow and some cash ready to go.
A visit from Santa is still fresh in their minds. To this day they believe he was real. They just keep questioning why he did not arrive through the chimney.
They believe Baba Yaga at the New Year performance was real too. "She was the kind type, not evil", – the girls noted. "She wanted to be friends with us".
We have been reading Snow Queen lately by Hans Christian Andersen. "Is the Queen kind?", they ask. "How about Hans Christian Andersen, is he kind"? "What about the reindeer?" Their ultimate dream is that every single character in fairy tales as well as in the real world is nice and kind.
Now they are waiting for a Snow Queen to arrive. "When is it going to snow?" they want to know.
"Could you invite princesses to out birthday?" they ask, "the real, magical ones, not pretend".
Do you have any tips how to pull that off?
If you leave a comment on this post, you could also get a visit from a Fairy Hobmother!
What would you wish for if the Fairy Hobmother paid you a visit?
Mister Linky's Magical Widgets — Auto-Linky widget will appear right here!
This preview will disappear when the widget is displayed on your site.
For best results, use HTML mode to edit this section of the post.