All natural girl's make up: Review and Giveaway
I have been looking for an all natural make up kit for kids for a while now. I had a good reason. My three year old daughter wants to be a princess. She enjoys dress-ups. She wants to wear make up. She wants to be a beautiful girly girl. She would occasionally put my lipstick on. Or apply chapstick on her cheekbones.
Her dance recital was coming up. I decided to buy her a girl's make up set. I had only one criteria: it had to be all natural. The only all natural make up for little girls I found was Luna Organics Play Makeup. It arrived on her recital day. She was thrilled to have her own make up kit. Luna Organics Make up kit consists only of all natural, hypoallergenic materials with no preservatives, artificial colors, or fragrances. The girl's play makeup kit we tried includes sparkly eyeshadow (5 colors), Purple Glitter organic lip balm, and Fairy Dust (sparkly silver and purple).
We also want to try one of the Natural Girls products, which include foundation, perfume, Rose Blush, eyeshadow packs, and lip balm.
The make up kit is one of her most treasured possessions now. She proudly takes her make up (carefully packed in her little purse) everywhere. She applies her lip balm herself. I still help her with the shadows though.
Sometimes she tries to put some lip balm on her baby sister "to make her pretty".
And of course when she dresses up, she remembers about the make up. She feels pretty and charming. She says she is "inside a fairy tale".

She asked me what eyeshadow color would go with her "flowery" dress today. She suggested green shadow color since she found some green leaves on the dress. Or maybe we will go with pink today.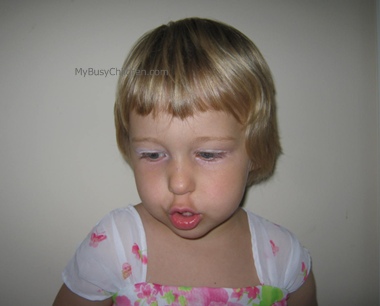 Luna Organics is generously offering one lucky reader one Play Makeup Product.
To participate in the giveaway, you could do any or all of the following:
This Giveaway ends on June 29th at 11:59pm EST. The winner will be chosen randomly. I will email the winner, who will have 72 hours to contact me or a new winner will be chosen. You must have a valid U.S. address to enter.
UPDATE (6/29): THIS GIVEAWAY IS CLOSED. The Winning number is 15 – Jenna Wood. Congratulations!
Review/giveaway disclaimer: I received no monetary compensation for this review. I received Luna Organics Products for review. The opinions expressed are entirely my own. This article contains affiliate links.