Teaching babies and toddlers to eat veggies + Baby Bullet blender system giveaway
I think I figured out why my kids have such resistance when it comes to eating vegetables even though their Mommy will gladly eat a tomato and cucumber salad for breakfast. Maybe the difference lies in the first food we ate as babies, apart from breast milk, that is. My first solid food was mashed potatoes with freshly squeezed carrot juice to go with it. My kids had traditional rice cereal when they were six months old. I wonder if my kids would have been better veggie eaters if I had started feeding them vegetables instead of rice cereals. I guess, I will never know.
In any case, since the kids were babies, I have been trying to do everything to get more veggies in their diet. I recently started a series of articles about teaching kids to eat vegetables, but here are my main tips to introduce more veggies into a baby and a toddler diet:
–          Do not be afraid of kids getting messy. We bought these TWO long sleeve bibs from IKEA for less than five dollars and definitely recommend them.
–          Make freshly squeezed juices. You can read about making fruit and vegetable juices for kids in this interview with Linda Kordich.
–          When your baby or toddler is comfortable with eating peas and corn without the risk of chocking but refuses to eat those, offer frozen corn and peas. Some kids will eat them much better than plain cooked peas or corn.
–          Make veggie pops from mashed vegetables. Use popsicle sticks to make these frozen treats. Just remember to soak wooden sticks in water before inserting them in the containers to make sure the sticks do not float on top. You can use Baby Bullet baby food making system to prepare veggie pops.
And now the GIVEAWAY!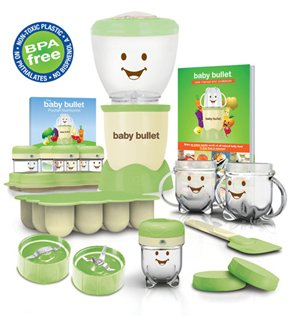 One reader will win a complete Baby Bullet baby food making system can be used to prepare, blend and store an entire week's worth of nutrient-rich, preservative-free, organic baby food.
This giveaway is open to U.S. addresses. No P.O boxes
The Original Baby Bullet™ is safe, non-toxic and BPA-free countertop system was specifically designed for new moms, on-the-go moms and even Dads too.  The Original Baby Bullet™ is more than a blender – it's a 22-piece comprehensive baby food making system designed to make mom's life easier while ensuring baby begins life eating the healthiest, most nutrient-rich all-natural foods.  Jarred baby food is much more expensive than homemade food and typically contains unhealthy sugars, preservatives and fillers (even when it's labeled organic).   With the Original Baby Bullet™, moms are in full control of every ingredient that goes into their baby's food.
The winner will receive The Original Baby Bullet™ Baby Care System, which includes
The Power Base:  The heart of The Original Baby Bullet™ Baby Care System.  Simply place either the Batchbowl or one of the Short Cups on to the High-Torque Power Base, press down and twist for preservative-free, all-natural baby food in seconds.
The Cross Blade and Flat Blade: The Cross Blade is used for pureeing and blending foods, while the Flat Blade is used for milling grains to make cereals. Both are BPA-free and dishwasher safe.
Two Short Cups: Both cups are used to mix and store ingredients and are BPA-free and dishwasher safe.
The Batchbowl:  This larger vessel is used for creating large amounts of baby food for storage. It's BPA-free and dishwasher safe.
The Batch Tray: This one-of-a-kind tray is used to store large batches of baby's favorite food after preparation. The Batch Tray freezes over 24 ounces of baby food and the silicone "easy pop" cups make it a breeze to pop out one serving, several servings, or all 12 Baby Bullet servings with ease.  It is BPA-free and dishwasher safe.
The Soft-Tip Spatula: Helps scoop the prepared baby food into the storage vessels with ease.
The Original Baby Bullet™ User Guide and Cookbook: This handy book takes the guess work out of preparing the tastiest, healthiest, age-appropriate foods that are perfect for baby at every stage of development. It includes recipes for Sweet Potato Puree, Green Pea Puree, Oatmeal Cereal, Strawberry and Pear Totsicles, and many other baby favorites.
Pocket Nutritionist: This pocket-sized companion guides moms on exactly how much food to buy, how to choose the freshest produce, and provides nutritional information so that baby is getting all the vitamins and minerals needed for optimal health.
Six Storage Cups with Date-Dial lids: Simply spoon your baby food in to the storage cup, twist on the lid and turn the Date-Dial to show the date you created the food.  All six cups and lids are BPA-free and dishwasher safe.
Current Baby Bullet offer: Purchase The Original Baby Bullet™ 22-piece system for $59.97 plus shipping and processing at www.mybabybullet.com and receive the Stay Fresh Thermal Tiny Tote Bag as a free gift.  This Baby Bullet-specific tote allows moms to take six Date-Dial lid storage cups of baby food on the go, ensuring freshness during travels.
To participate in the giveaway, you could do any or all of the following:
How do you teach babies and toddler to eat more vegetables? Leave a comment (1 entry)
Like me on Facebook. Leave a comment here with your Facebook name. (1 entry)
Tweet about this giveaway. Win @TheBabyBullet baby food making system. Enter #giveaway @MyBusyChildren http://bit.ly/n9YpGK  Leave a comment here with your Twitter name or twitter link. (1 entry per day)
Submit this giveaway to any sweepstakes site or giveaway Linky. Leave one comment with a link each time you submit. (1 entry per submission/link)
Join me on Google Friend Connect (left sidebar). Leave a comment here (1 entry)
Follow me on Networked Blogs. Requires Facebook account. Leave a comment here that you follow (1 entry)
Follow me on Twitter. Leave a comment with your Twitter name (1 entry)
Subscribe to My Busy Children by email here or via Feedburner. Or subscribe to the RSS feed. Leave a comment indicating how you subscribed (1 entry)
This Giveaway ends on September 8, 11:59pm EST, 2011. The winners will be chosen randomly. I will email the winner, who will have 72 hours to contact me or a new winner will be chosen.
This giveaway is closed
The winner is #447  – amy v  
Giveaway disclaimer: I received no product or monetary compensation for posting this giveaway. This post contains affiliate links. This giveaway is not associated with or related to Facebook.