Stroller Baby Types
After my first baby was born, I realized that there are two stroller types of babies:
Stroller Baby Type 1. These babies will happily stay in the stroller. They enjoy their surroundings as their moms take a walk. They happily play with a rattle and smile at you.
Stroller  Baby Type 2. These babies will scream the moment you approach the the stroller. They will try to squirm out of the seat no matter how well you fastened them. They throw the rattle back at you. They, however, become happy and content the moment you take them out of the stroller.
You guessed it. Both of my kids were stroller type 2 babies. I told my Mom about my Stroller Baby Type theory. She said she heard about Type 1 babies too.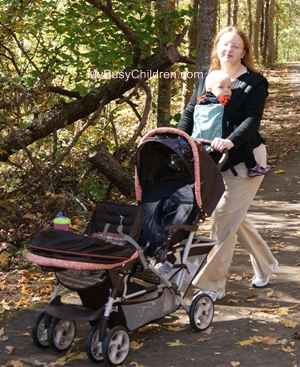 When I could not hold my first baby any longer, I bought the first baby carrier I saw in the store. By the time my baby was 6 months old, her weight on my shoulders was more than I could handle. I thought my carrier time was over. A few months later I found out about ERGObaby carrier. It is different from other carriers because it balances baby's weight to parents' hips, and alleviates stress from the shoulders.
Honestly, she did not want to sit in the carrier by that time. I would take walks around the neighborhood to help her get adjusted. Soon, she did not mind the carrier. She even started falling asleep in it. I loved that it was so easy to transfer the baby from the carrier to the crib without waking her up.
Since then, I have been using Ergo for both kids. My older daughter is now three and she still loves to be carried in the ERGObaby carrier. Anywhere we go, I take my Ergo with me. It travelled internationally four times. It is so much better than a stroller to travel with. It is vital to have in the countries we have to walk a lot and where strollers are not the best option. We have taken it to parks and forests, museums and markets, on subway and buses. ERGObaby carrier is also perfect when we stay in apartment buildings without elevators.
I always take ERGObaby carrier on the plane with me. When we board, my baby is safe in the Ergo. Plus, I can also carry a backpack and a bag. Ergo carrier is especially indispensible on little planes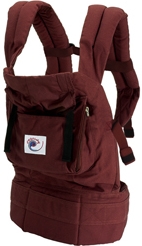 where you have to use the stairs to get on and off. It is so much safer to securely tuck the baby in the carrier and hold on to the airplane ramp.  
ERGObaby is generously giving away one ERGObaby carrier. Winner can specify her first choice of style and color of carrier and ERGObaby will try to accommodate the request.
You need to have The U.S. address to enter.
To participate in the giveaway, you could do any or all of the following:
Leave any comment related to this topic.
Leave a comment on any of my posts. Leave a comment here with a post name.
Follow me on Networked Blogs. Requires Facebook account. Leave a comment here that you follow
Sign up to ERGObaby email newsletter. Leave a comment that you signed up.
Become a Fan of ERGObaby on Facebook. Leave a comment here with your Facebook name. 
Follow ERGObaby on Twitter.  Leave a comment with your Twitter name.
Tweet about this giveaway. Use the following to tweet: win @ergobaby carrier ($105-$148 value). Enter #giveaway at @mybusychildren http://bit.ly/ergo-baby       Leave a comment here with your Twitter name. You can tweet once a day.
Follow me on Twitter. Leave a comment with your Twitter name
Subscribe to My Busy Children by email here or via Feedburner. Or subscribe to the RSS feed. Leave a comment indicating how you subscribed
This Giveaway ends on December 2nd, 11:59pm EST, 2010. The winner will be chosen randomly. I will email the winner, who will have 72 hours to contact me or a new winner will be chosen.
This giveaway is closed. The winner is #352 –   Robin  
Review/giveaway disclaimer: I received no product or monetary compensation for this review/giveaway. The opinions expressed are entirely my own