Style and detangle your kids' hair with Le Baby haircare collection (giveaway)
Have you ever though about using hair gel for your toddler? Now your toddler can be a trendsetter on the playground and at daycare by using Le Baby Hair Gel, a product designed for kids that is free of sulfates, fragrances and harsh chemicals. The lightweight formula makes it easy to spike hair, tackle unwanted fly-aways and tame after
-nap hair.  For more information, please visit www.lebabyinc.com. 
Le Baby Hair Gel is made especially for babies, kids and anyone with sensitive skin.
Hypoallergenic
No harsh chemicals
No parabens
No sulfates
Not tested on animals
Fragrance-free
Thickens baby-fine hair
Tames frizzies and fly-aways
Moisturizes
Softly holds curls
Keeps hairstyles in place
Never leaves hair stiff or sticky
Rinses easily
Le Baby hair gel is a styling gel free of harsh chemicals meant to define wispy curls and tackle unruly after-nap hair. While the concept of baby hairstyling products might seem a little child-beauty-pageant to some, for many moms and dads it's a must-have diaper bag accessory.  From taming those wild fly-aways to smoothing frizzies, Le Baby hair gel works on all hair types and is hypoallergenic for sensitive skin. Whatever your child's hair type, Le Baby will make combing and styling a cinch. The unique formulas leave hair shiny, healthy looking and more manageable.
You can find more information (including the list of the ingredients) and buy the gel on  www.lebabyinc.com.  Retail Cost: $9.95.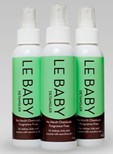 Tami Dimmerman, founder of Le Baby, Inc. is proud to launch the Le Baby Detangler, the latest addition in the Le Baby haircare collection.  With the success of its flagship product Le Baby Gel, the Detangler is formulated with the gentlest ingredients and is the ultimate hypoallergenic haircare solution created for babies, kids and anyone with sensitive skin. 
"Having two daughters with sensitive skin, I've spent my fair share of time trying products to help comb through their hair.   I needed products that were gentle enough not to irritate their skin, yet effective enough to help make the detangling process less painful, for all of us," says Tami. "As big as the haircare industry is, I haven't been able to find a product that meets these standards as few brands are hypoallergenic, and free of fragrances, parabens and sulfates."
Benefits & Features of Le Baby Detangler:
Hypoallergenic                          
No harsh chemicals
Steady spritz to reach roots       
No sulfates
Not tested on animals               
Fragrance-free
Natural scented botanicals         
No parabens
Does not leave the hair oily
Retail Cost: $7.95 / 4oz. bottle
For many, winter not only brings good tidings of comfort and joy; but the dreaded winter hair woes.  When the outdoor temperature and humidity levels drop, your hair becomes dry, dull and brittle resulting in a not-so-merry season.  The Detangler contains active ingredients that help to loosen tangled hair upon application while adding moisture and shine. The nozzle is strategically designed so that every spritz reaches the hairs' roots, coating the entire strand of hair from top to bottom.  For best results, Tami recommends spraying the Detangler on wet hair and brushing through the hair in sections until the hair combs easily.  No time to re-wash or wet the hair?  No problem!  The Detangler can be used on dry hair too!
Not Just For Kids
Le Baby Detangler isn't just for kids but anyone who suffers from easily irritated skin.  The ingredients work together to conquer tangled hair.  According to Tami, "Adults don't always think about using a detangler, rather they'll use extra conditioner to treat dry and damaged hair.  However, detanglers help to provide some extra protection and nourishment."
Meet the Creator of Le Baby, Tami Dimmerman
Tami searched for products that would detangle, tame and style her eldest daughter Chloe's fly-away hair without aggravating her eczema or irritating her sensitive skin. She hoped to find safe, gentle and effective products without harsh chemicals or potentially harmful ingredients. Unwilling to settle for what was in the marketplace, Tami spent months experimenting with different all-natural formulas until, through animal-free testing, she found the perfect combination and solutions leading her to the creation of Le Baby Hair Gel and shortly after, Le Baby Detangler. 
The Giveaway:
One lucky reader will win 1 (one) Le Baby Hair Gel with a retail value of $9.95 and one Le Baby Detangler at $7.95
This giveaway is open to U.S. addresses only.
To participate in the giveaway, you could do any or all of the following:
Leave a comment – what kind of hair styles have you tried for your kids? (1 entry)
Join Le Baby on Facebook. Leave a comment here with your Facebook name.  (1 entry)
Submit this giveaway to any sweepstakes site or giveaway Linky. Leave one comment with a link each time you submit. (1 entry per submission/link; unlimited entries)
Blog about this giveaway. Leave one comment with a link to your post. (2 entries)
Tweet about this giveaway.  #win Le Baby Hair Gel and Le Baby Detangler; enter #Giveaway @MyBusyChildren  http://bit.ly/dIrH1Q   Leave a comment here with your Twitter name. (1 entry per day)
Join me on Google Friend Connect (left sidebar). Leave a comment here (1 entry)
Like me on Facebook. Leave a comment here with your Facebook name.  (1 entry)
Follow me on Networked Blogs. Leave a comment here that you follow (1 entry)
Follow me on Twitter. Leave a comment with your Twitter name (1 entry)
Subscribe to My Busy Children by email here or via Feedburner. Or subscribe to the RSS feed. Leave a comment indicating how you subscribed (1 entry)
This Giveaway ends on April 21, 11:59pm EST, 2011. The winner will be chosen randomly. I will email the winner, who will have 72 hours to contact me or a new winner will be chosen.
This giveaway is closed.
The winner is # 136 Dana West –  Dana West says: I subscribe via email
Review/giveaway disclaimer: I received no product or monetary compensation for this review/giveaway.