Polly Pocket toys inspire kids to be active
My kids have been playing with the Polly Pocket toys for a few weeks now. Imagine their excitement when they received a Polly Pocket Playtime Pet Shop Play Set. The set is compatible with the toys they already have (Polly Pocket™ Hangout House™ Playset and a Polly Pocket™ Patio Set) which creates an amazing play area and fosters imagination.
The Pet Shop set includes a doll, a few pets, birds, and accessories. The girls got really excited about playing with the pets. Their favorite places have been a zoo and a pet store lately where they can look or even touch animals. The Pet Shop Toy is fun since it has a lot of interactive components: a slide, a grooming station, a dispenser for treats, a rotating display in the window, a checkout door, an elevator, a double swing, and many more. Even though there are no suction cups on the Pet Shop toys, the little toys still worked well and sometimes the girls were using toys from the other two sets on the Pet Shop Toy.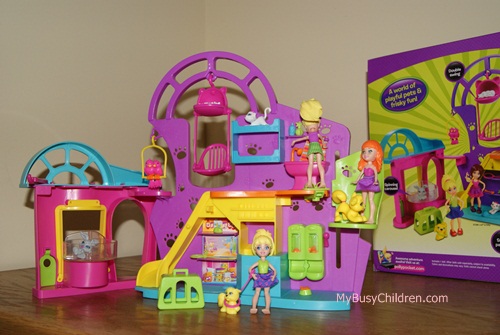 In addition, we received a Polly Pocket DVD Friends Finish First, featuring Polly Pocket Dolls in action. I asked my daughters what they thought of the DVD, what it made them think about and what it inspired them to do. They responded that they liked that the dolls were skating just like they do. The Polly pocket dolls made them want to compete, win, get trophies, and be the best friends ever. Without further ado, my kids got dressed, found their roller skates, skating gear and went outside to skate together. Although I thought that the music was a little loud and hard to hear the voices in the cartoon, the girls enjoyed this fast, active, high energy, inspirational DVD.
Here they are demonstrating their little doll heroes and the DVD:
And the race is on: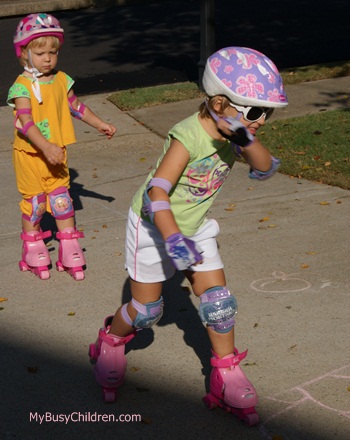 Can you think of a toy, a cartoon, a show, or a movie that inspired your kids to do something fun and creative?
I participated in a campaign on behalf of Mom Central Consulting for Mattel Polly Pocket. I received product samples and a promotional item as a thank-you for participating.
Mister Linky's Magical Widgets — Auto-Linky widget will appear right here!
This preview will disappear when the widget is displayed on your site.
For best results, use HTML mode to edit this section of the post.