Polly Pocket toys have suction cups
August 17, 2012

Filled under

reviews
I saw Polly Pocket sets first at a consignment sale. They looked fun and cool but the toys were so little that I decided to wait until my girls are at least three or four years old. I was pleasantly surprised to see that Polly Pocket dolls grew and are easier to hold for little fingers now. We recently received a POLLY POCKET™ HANGOUT HOUSE™ Playset and a POLLY POCKET™ Patio set for review. The sets have two dolls, colorful furniture, accessories, and food items. And the most amazing thing is that all little toys have suction cups.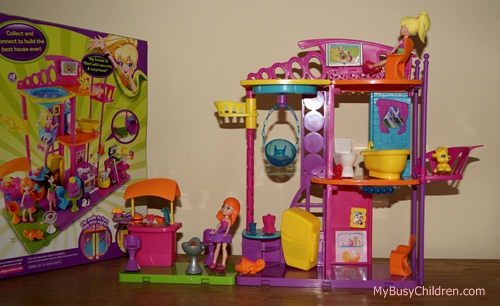 Not only it is convenient to take the sets on the road with us, but it is also easy for the girls to play at home since they do not constantly knock over little toys after they just created a nice play scene since suction cups hold toys in place.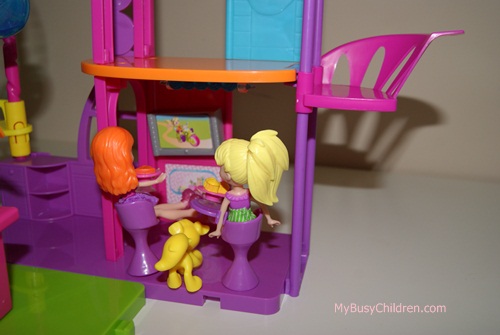 Putting together the play sets could not be any easier. Plus, the instructions are simple. In fact, the instructions are just pictures, no words. What Mom has time to read instructions, anyway?
The basic set, Hangout House is expandable. You can add a Patio, a Game room, or a Kitchen.
We loved how the dolls have shoes with suction cups. These are the first dolls my girls were able to get to stand on their own.
I would have preferred that larger toys, like a refrigerator, had two or more suction cups to make those toys more stable, though.
In any case, the girls had a lot of fun with the sets.
Moreover, I enjoyed playing with the toys myself and creating different play scenes. I showed the girls that a dog toy can attach itself to a ceiling with the suction cups and hang upside down. They liked the idea and immediately both dolls were doing handstands hanging from the ceiling. We are looking forward to trying out more Polly Pocket play sets.
I participated in a campaign on behalf of Mom Central Consulting for Mattel Polly Pocket. I received a product samples and a promotional item as a thank-you for participating.