How to choose a sleepsack for a baby
You've probably been hearing a lot about baby sleep sacks as a safer alternative to using blankets, but with the growing number of choices available, how do you choose the one that is right for your baby?
4 Reasons for Sleepsack Popularity
Sleepsacks take away the worry of a baby's mouth and nose being covered by a blanket
Sleepsacks ensure your baby stays warmly covered all night
Recommended by some doulas as part of a healthy sleep routine
Easily transportable, a sleepsack keeps your baby's sleep routine consistent, no matter where you are
5 Things to Consider When Choosing a Sleepsack
1) How old is your baby?
Sleepsacks are most useful after the first couple of months when a baby no longer needs to be swaddled. It is a nice transition because it is a contained space the baby becomes familiar with
2) What fabric should I choose?
There are many fabrics to consider, cotton, hemp, fleece, wool, down…if the temperature is warmer cotton or hemp are great choices, but for cooler weather, fleece, wool and down are great options.
3) What temperature rating should my sleepsack be?
When considering what warmth of sleepsack to buy, consider not just the season, but the temperature of your baby's room. It is generally better to have a slightly cooler sleepsack that you can make warmer or cooler by adding warmer pj's or just diapers underneath
4) What is a good fit?
For fit issues, look to make sure the neck hole is a good fit and won't go over the babies head. For the armholes they should be big enough to offer air circulation, but not so big your baby's arms could get tangled.
5) What zipper style?
There are two main zipper styles. One zips down the middle of the sleepsack, the other zips around the outside like a sleeping bag. May parents prefer the zippers that are sleeping bag style and open from the bottom for easy diaper changes in the middle of the night.
While sleepsacks have been used for decades in Europe, they are only now gaining popularity in North America.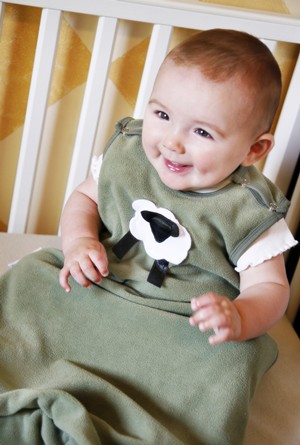 Promoted strongly by SIDS organizations internationally, sleepsacks take away the worry of blankets getting tangled up around your baby's mouth and nose causing re-breathing of air (one of the factors associated with SIDS).
Basically, a wearable blanket, the sleepsack is zipped on over your baby's regular pajamas and is used in place of blankets.
Not only are sleepsacks a safety item, but according to Jennifer, a local doula, "sleepsacks are an essential part of a baby's sleep routine. Because sleepsacks are designed to fit snuggly, like a sleeping bag, a baby feels comfortable and secure when they are put to bed in one."
Another great thing about sleepsacks is that they are easy to transport. This means you can easily bring your sleepsack anywhere – to a friend's house, camping in a tent or flying on a plane – wherever you are, once you bring out the sleepsack, your baby knows it is bedtime.
As one of our parents wrote: "… the sleeping bag was a great thing to have when travelling. Our son knew that when we put it on, it was bedtime, no matter where we were (including two overnight flights)."
Perhaps the benefit most often mentioned by parents is the peace of mind sleepsacks can bring. No more worrying that your baby will throw off the blankets and wake up cold and crying.
Because sleepsacks are designed to stay in place, they keep your baby sleeping warmly, no matter how much he/she squirms during the night.
 In a nutshell, 4 great things about sleepsacks:
Recommended by SIDS organizations as a safer alternative to blankets
Recommended by doulas a part of a healthy sleep routine
Easily transportable to keep your baby's sleep routine consistent wherever you are
Keeps your baby safely covered through the night so everyone gets a better night's rest!
The Giveaway:
One lucky reader will win a Classic Sleepsack ($50 value).  It is made of 100% Polyester fleece. This sleepsack is good for fall, winter and Spring. Color and size are subject to availability
This giveaway is open to U.S. and Canada addresses. No P.O boxes.
Please use Rafflecopter form below to enter the giveaway.
This Giveaway ends on Friday, September 30th 11:59pm EST, 2011.
Review/giveaway disclaimer: I received no product or monetary compensation for this giveaway.