Kids can stand at the counter safely with @LearningTower
October 12, 2012

Filled under

My Kids
My kids love to stand at the counter helping me cook, but I was always afraid that they will fall off the chairs. Especially when one leans over the counter and the other pulls the chair away. They have done it quite a few times. Not necessarily with an intention to have the sister fall on the floor, but mostly because a chair looks like a perfect push toy for a toddler.
The Learning Tower solves all these problems.  The Learning Tower is definitely one of the best children's products we have used. It is sturdy, stylish, and well designed. Now I do not have to worry about my child pushing away from the counter and falling backwards, which is always a big risk when she is standing at the counter on a regular chair. I wish I knew about the product a few years ago; we would have avoided so many accidents.  I used to be afraid to turn around in the kitchen to grab a bowl. Now I do not have to worry about my daughter falling down when she helps me cook.
There are so many things my kids can do with the learning tower:
Wash hands at the sink or even help with rinsing dishes.
Help me cook and bake. In particular, make her favorite desert "blah-oonies".
3. Eat a meal or have a snack. My daughter loves the Learning Tower it so much that she even eats standing in it at the counter.
4. Do your morning exercises. After all, no time can get wasted to get ready for the Olympics in 16 years.
5. Use it as a hiding place or just to stretch your muscles in the morning. Do you see a child on the bottom picture? Hint: she is wearing purple pajamas.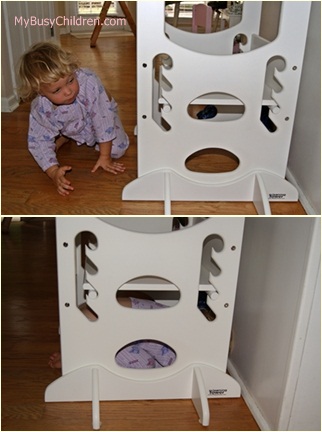 6. Dress up a learning tower with a slip cover and either
Run a lemonade stand,
Perform a puppet show,
Offer popcorn snack to show spectators or
Sell ice-cream to all the ice-cream loving kids and adults
You will only need two slipcovers for these four activities:
The kits are sold separately from the Learning Tower.
7.  Engage in any crafts, reading, or playing activities while Mommy is working in the kitchen. The learning Tower works as a Playpen for older kids: a child is happy and engaged, stays in one place without me having to worry about her whereabouts, and I can see her at all times when I am in the kitchen
 You can follow Learning Tower on Twitter, Facebook, and Pinterest to learn about other fun and safe ways of using this product.
 Disclaimer: I received the Learning Tower for review but opinions are entirely my own.