Kids Cooking party
We had a cooking party for little kids (and their moms, of course).  I used balloon for decorations. I love the festive look of balloons, plus it is easy to choose the color scheme fitting the party. Our party was dedicated to making and tasting entrees, which incorporate Chef Boyardee ingredients. Chef Boyardee colors are mostly green, white, and red (although some red balloons look pink when blown up):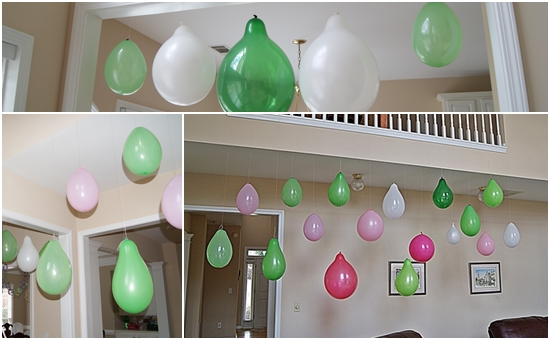 Our pre-party activities included making Double spinach lasagna with Chef Boyardee ravioli. I actually never thought about using canned ravioli in any dishes, but these recipe ideas and Make it Boyardeelicious Recipe Contest inspired me to try new recipes. Plus, we received an amazing party pack from Chef Boyardee which I could not wait to use.
We came up with our own recipe, which is easy for kids to make. I am not participating in the contest myself, but you definitely should!
Double spinach Chef Boyardee lasagna Ingredients:
Two packs of defrosted well-drained spinach
One can (20oz) of Ricotta cheese
2 cups of shredded mozzarella cheese
2 cups of shredded Parmesan cheese
2 cans of 40oz Chef Boyardee ravioli
Kids made this dish entirely on their own. I only helped to drain spinach and put the dish in the oven.
Step 1: combine spinach and Ricotta cheese.
Step 2. Mix well. Add mozzarella cheese. Mix again
Step 3. Arrange ravioli in single layer on the bottom of a baking dish
Step 4: add a layer of cheese mixture, another layer of ravioli, and another layer of cheese mixture. Sprinkle with Parmesan cheese
Step 5. Bake at 350 degrees Fahrenheit for 30 minutes. Enjoy!
Our party activities included
Making Chef Boyardee hats
We made Chef Boyardee hats from tissue paper and paper towels. Note the Chef Boyardee logo on the hat. We cut out the logos from Chef Boyardee can wrappers.
The chefs proceeded to play wearing their chefs' hats:
Making chocolate covered fruit:
I was not sure what kind of recipes to make with little kids and picked an easy and fun cooking activity: making chocolate covered bananas and strawberries. Each child had her own cup of chocolate and an array of fruit for dipping. We used lollipop sticks as handles for the fruit. Good thing each child had a separate chocolate cup since my younger daughter was eating the chocolate off and dipping the same fruit in the liquid chocolate over and over.
Please remember to enter Make it Boyardeelicious Recipe Contest:
You can enter the Make it Boyardeelicious Recipe Contest on the Chef Boyardee Facebook page for a chance to win a grand prize of free groceries for a year.
Now through March 11, 2012, you can submit an original recipe that uses Chef Boyardee as an ingredient. The simply have to upload a photo of the recipe, and share why your family loves it.
Each week, a winner will be chosen based on creativity, all-family appeal, ease of preparation, and palatable appeal by an expert panel of judges.
The weekly winner receives a $500 prize as well as $75 in Chef coupons. If you don't win in one week, you can re-enter again the next week!
Each of the top ten finalists from all the accumulated weeks will have the chance to win the grand prize of free groceries for a year. The winner will be chosen based on a combined score of taste points and voting.
The voting period lasts March 26-April 8, 2012. Voters get entered into a daily sweepstakes for the chance to win $100. Share it on Facebook and get an extra sweepstakes entry.
I wrote this review while participating in a In Home Party campaign by Mom Central Consulting on behalf of Chef Boyardee and received product samples to facilitate my party and review, and a promotional item to thank me for participating.
Tags: Kids Cooking party