@OralB Stages / Winnie the Pooh kids party
"Is our Winnie the Pooh Party pretty soon?"
This was a question I heard every morning for the past two weeks.
The kids could not wait. We were decorating rooms with balloons and cutting out donkey tails. The party turned out fun, especially because Oral-B Stages sent us activity ideas, supplies, and gift bags for all guests.
We have been using Oral-B Stages products for several years now. Since all the toothbrushes and toothpastes have a "stage" indication on them, it is quite convenient and easy to choose a product for a child of any age. Stage One products are recommended for 4-24 month old babies; Stage Two – for two to four year olds, and Stage Three for 5 to 7 year olds kids. My five-year-old  is particularly impressed with the pink princess toothpaste:
while my toddler diligently uses Pooh Power Toothbrush: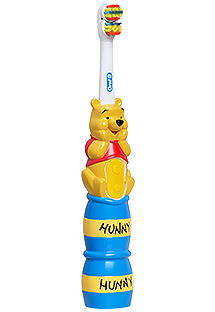 A lot of Oral-B products feature Winnie-the-Poor Characters. Our party was also Pooh-themed.
We watched a Disney's Winnie the Pooh Movie DVD. Even adults loved it:
Playing with the Oral-B balloons was so fun, that the kids even burst a few:
We found a Pin the Tail on Eeyore Printable on the Disney website, printed it, and glued pieces of paper together on an old cardboard box. We also cut out and colored many tails. Every child received a tail with his or her name on it. It was not easy to pin those tails on but they did a marvelous job: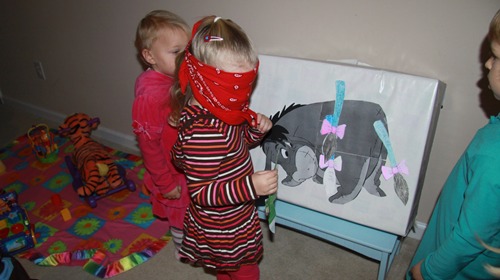 This is what our donkey looked like in the end. Doesn't he look a little surprised about the quantity of tails?
We also loved a flash card activity from Oral-B: kids had to answer a question by looking at the pictures. Questions ranged from the shirt color of Winnie-the-Pooh to tooth brushing utensils.
We asked all moms to bring Pooh-themed toys (if they had any) so that we could set up a mini play area for babies and toddlers. Some of the little guests they were still too young to understand the movie or flash card questions, but enjoyed the party nevertheless!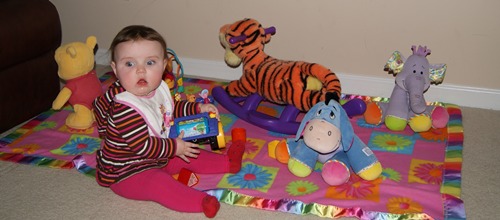 All the guests were particularly happy to receive gift bags with Oral-B products,  Disney Lavender Wash, and other products. Moms also appreciated coupons for Oral-B products: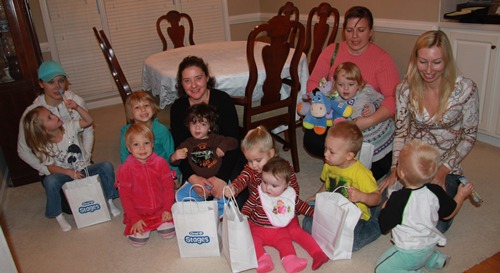 "That was a good party," my kids stated in the end. When are we going to have another one?
Disclaimer: Oral-B stages provided a party kit as well as gifts for the guests. I was not compensated for this post.