Super Baby Food – Book Giveaway (2 winners)
Wouldn't it be nice to have a book that answered all the questions about baby food and feeding a baby.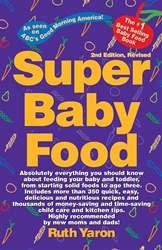 Luckily, there is one.
The Best-Selling Super Baby Food Book contains ABSOLUTELY EVERYTHING you should know about feeding your baby or toddler during the first three years. Here are just some of the topics included in this book:
Introducing Solid Foods
Importance of mealtimes
Introducing new foods – a month-by-month schedule
Consistency to make foods at each age
Quantity of food your baby should be eating
Volume of liquid your baby should be drinking at each age
How to handle and store baby food to prevent food poisoning in both homemade and commercial baby foods
Over 350 super healthy, quick & easy recipes
How to make meals FUN!
Minimizing the likelihood of food allergies and digestive problems
How to prevent choking and gagging
How to buy a good, safe high chair, feeding spoon, bibs, etc.
Extensive information on diet and nutrition
How to quickly, easily, and safely make your own baby food
Hundreds of tips to help you save money and time in the kitchen
Hundreds of child care and parenting tips.
Food decorating, cake patterns, and toddler party ideas
Recipes for homemade play dough, finger paints, bubbles for blowing, and dozens of other quick and easy children's crafts
Easy, economical recipes for homemade baby accessories, such as baby wipes, diaper cream, and more
Baby-safe and environmentally-friendly recipes for household cleaning products, such as baby-safe drain cleaners, furniture polish, window cleaners.  They cost pennies to make and are so safe, most of them are actually edible!!
Super Baby Food – by Ruth Yaron, a book touted by Kourtney Kardashian at Parenting Magazine as the must-have new mom product and is being featured on the Martha Stewart show on 11/28.  This book is in its 18th printing and has sold over  500,000 copies – moms simply love this book!
The Giveaway:
Two lucky readers will win Super Baby Food book.
Giveaway open to U.S. addresses only. No P.O. Boxes.
Please use Rafflecopter form below to enter the giveaway.
This Giveaway ends on December 2, 11:59pm EST, 2011. The winner will be chosen randomly via Rafflecopter. I will email the winner, who will have 72 hours to contact me or a new winner will be chosen.
Review/giveaway disclaimer: I received no product or monetary compensation for this giveaway. 
Tags: Super Baby Food Book