Saving on groceries and wine at ALDI
December 20, 2011

Filled under

reviews
I first experienced ALDI when I lived in Germany. I immediately recognized the difference from the traditional American supermarkets: from having to pay for plastic bags to depositing coins for cart rental. However, I quickly noticed how much money I was the saving. ALDI by far offered the lowest prices among all other stores in the area. I really appreciated the fact that I could buy quality products while spending the minimum amount of money. This was particularly important since I was a student with a limited income.
Can you imagine my excitement when I found out there was an ALDI store nearby here in Georgia?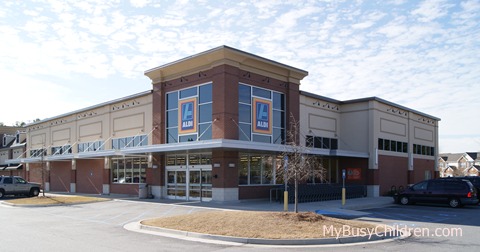 The store was squeaky clean, all the food items nicely arranged on the shelves. I was particularly impressed with the wine selection, not to mention the low cost of those wines:
It was nice to see so many high quality food items that I have not seen in my neighborhood grocery stores. Now I am planning to get an ALDI iPhone app, so I can create grocery lists and make shopping even more efficient.
The staff was very friendly and helped me look for items on my list.
Large selection of specialty cheeses makes it easy to choose the right kind to pair with your favorite wine. All the types cheese we bought were exactly half the price of my neighborhood supermarket prices. All the fruit spreads are made in Germany and have no high fructose corn syrup (or any corn syrup for that matter).
Having spent less than seventy dollars, I was able to entertain a large company. My purchase even included a Gingerbread House kit for the kids (which was only $6.99):
When you plan you next trip to ALDI, here are some tips to make the trip worthwhile:
Bring your own bags if you prefer not to pay for plastic bags. You can also bring with you some extra bags to wrap your wine in case you are buying wine (there are no brown paper bags).
Do not plan on using coupons since only ALDI gift certificates are accepted as coupons.
Check you wallet to make sure you have a debit card or cash since credit cards are not accepted to keep the prices low.
Remember to take a quarter for renting a cart (you will get it back). This is done to save on labor and prevent damage to carts. Here is my daughter depositing the coin in the cart. She thoroughly enjoyed the process:
Some things are different in ALDI from other supermarkets, I admit. However, it is nice to be able to save on groceries without sacrificing quality of food.
Can I be flexible? Absolutely. I can bring my own bags and remember to check if I have a quarter. I can use savings cards and coupons in other stores. I can pay with a debit card. If all that means that I can get high quality products with less money, I am in.
"What was your favorite part of shopping at ALDI", I asked my pre-schooler. "Gingerbread house" she said. She picked it out herself. And the kids loved decorating it:
Am I coming back? Definitely. I need a lot of affordable delicious food for the holidays. And wines. And another Gingerbread house.
I wrote this review while participating in a blog tour by Mom Central Consulting on behalf of ALDI and received a gift certificate to facilitate my review.
Tags: ALDI review