All natural face paint review
I have been looking for an all natural face paint for my kids for a while now. I have to admit, I am not very good at face painting, or any kind of painting, really. I thought it would be a great way to get creative for my kids, though.
I was thrilled to find Luna Organics Fairy Face Paint Kit.
 – Mommy: could I have a butterfly on my face before I go to school?
– Mommy: could you paint a flower on my cheek so I don't have to get a hand stamp in my soccer class?
These are the kinds of questions I have been getting from my three year old daughter every morning since we received Luna Organics Fairy Face Paint Kit.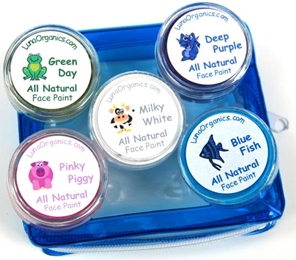 The hand stamp question might make little sense to everyone else but it is perfectly logical to her. Why would she need boring hand stamps if she has bright colored sparkly face paint she can apply herself? She also likes all the attention she gets when she walks in her daycare center with a flower on her face. And when she is ready to take the flower off, she takes a wet paper towel and removes the paint herself.
Most of the paintings on the pictures below were done by the kids. They were thrilled with the idea of making drawings on themselves.
My three year old admitted our face and body painting projects are the best art projects ever. I agreed. Most importantly, because I did not mind the kids using as much paint as they needed.
The Face paint is completely natural, hence no harm in applying to the skin. I was quite impressed by the ingredients: Chamomile, Calendula, Greet Tea, Arrow Root, Shea Butter, Vitamins (A, C, E).
Plus, the paint comes off so easily. Whenever my three year old wanted a new "picture", she would just wipe off the paint with the wet cloth and she is ready to start over. If the paint got on their clothes, I washed it with the regular detergent and all the stains were gone. Not even a trace of paint left.
I tried out every color of the face paint kit to paint a flower.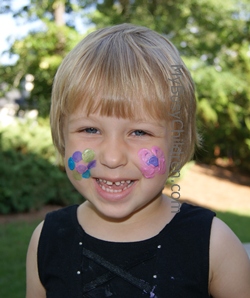 My three year old is quite skilled at body painting.
The little sister was super busy decorating herself.
Miss Winter Queen got so cold, her cheeks turned pink.
I wanted to get a face paint kit for my older daughter for a while. However, after reading reports that conventional face paint may contain lead, nickel, cobalt and/or chromium, I changed my mind. Imagine my excitement when I found  Luna Organics products made only of natural materials! Luna Organics is also a signer of the Compact for Safe Cosmetics. 
We can't wait to try other Face Paint kits from Luna Organics: Rainbow, Animal Medley, and Clown & Pirate.
Now the exciting news: Luna Organics is generously offering one lucky reader one Face Paint Product. The winner will have a choice of Fairy or Animal Medley Face Paint Kit.
To participate in the giveaway, you could do any or all of the following:
Visit Luna Organics. Leave a comment what you learned about the company or products.
Follow Luna Organics on Twitter. Leave a comment with your Twitter name
Become a fan of Luna Organics on Facebook
Subscribe to My Busy Children by email (on the left panel or here) or via RSS. Leave a comment indicating how you subscribed.
Follow me on Twitter. Leave a comment with your Twitter name
Tweet about this giveaway. Use the following to tweet: win @lunaorganics all natural face paint. Enter #giveaway at @mybusychildren http://bit.ly/d4UPKp.        Leave a comment here with your Twitter name. You can tweet once a day.
This Giveaway ends on July 6th at 11:59pm EST. The winner will be chosen randomly. I will email the winner, who will have 72 hours to contact me or a new winner will be chosen. You must have a valid U.S. address to enter.
UPDATE (7/8): THIS GIVEAWAY IS CLOSED. The Winning number is 24 – Louis. Congratulations!
Review/giveaway disclaimer: I received no monetary compensation for this review. I received Luna Organics Products for review. The opinions expressed are entirely my own. This article contains affiliate links.