Easy Kids Activities
It takes a lot of effort to come up with Easy Kids Activities, especially for a road trip. A few weeks ago we went to Charleston, which is about seven hours drive from our town in North Georgia. It took me weeks to get ready for the trip. I got some Plum Organics fruit pouches, HappyBaby Puffs, a pile of sticker books, two portable DVD players, and an iPad. These activities are great to engage on on a plane as well. We are planning a vacation to a Club Med Resort and this book is going into our carry-on luggage. For some reason the kids weren't interested in books or electronic gadgets. After they consumed all the food, we started counting cars and naming cars' colors. I quickly realized that these days 95% of the cars are painted in boring colors, in particular, in white, grey, and black.
Then we started guessing what those large trucks might be transporting. "Maybe they are carrying toys", I suggested."No, cookies", confidently declared my toddler, "and all of them for Lana". We sang songs and talked about our plans for the weekend. Soon I started running out of entertainment ideas. I think I will need another year to gather enough courage for another long road trip. Next time I will know many more travel activities, though. I am now reading Steve and Ruth Bennett's book 101 Offline Activities You Can Do With Your Child.
Steve 
(who is also a founder of AuthorBytes) and Ruth also published a bestselling kids' activity book, "365 TV-Free Activities You Can Do With Your Child". When their first book was published, television was the primary competitor for human interaction in a household. Computers were a luxury. Today, of course, television is but one of many electronic devices that vie for our attention from the moment we wake up to the moment we sink into sleep. Smart phones. Game consoles. eBook Readers. Laptops. Netbooks. Internet tablets. In-car video systems. In-pocket audio systems. If you're awake, you're plugged in, literally or via wireless waves.
Steve and Ruth love digital gadgets. But, they say, there's still something fundamentally satisfying about relying solely on the electronic activity in our brains and muscles to entertain ourselves and connect with family members and friends. Whether it's a simple guessing game or a more elaborate round of toilet-paper tube bowling, low-tech/notech games and activities are remarkably satisfying, rejuvenating and, most importantly, a great way to engage your children.
The 101 Offline Activities You Can Do With Your Child book features a lot activities you can do with your kids with or without craft supplies. We tried a few activities which require our time only. And we also made some crafts:
Activity 31. Hat Trimming.
My preschooler announced "tomorrow is a crazy day hat". Since I am not very savvy in the crazy hat arts, I started going through all the hats we had at home, wondering if any of them will qualify as a "Crazy Hat". Then I remembered that we had a One-Dollar-hat left from the Easter season, which would be perfect for decorating. I used tips from the Offline Activities book (activity 31  – Hat Trimming) to create a crazy hat together with the kids:
Activity 4. Audrey' Tic-Tac-Toe Game
We played a Tic-Tac-Toe Game with carrots and apples. We used popsicle sticks to make a Tic-Tac-Toe board. Kids enjoyed eating carrots more than ever. It is a great method to get kids to eat vegetables.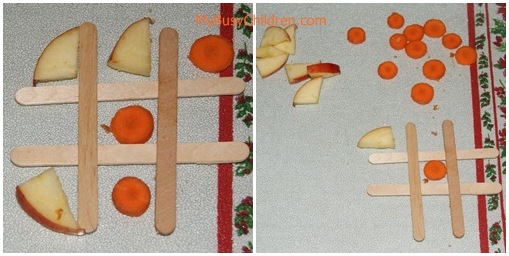 Activity 14. Coffee Filter painting
When it gets boring to use the ordinary art supplies, Steve and Ruth suggest to try a coffee filter because of its extraordinary absorbency properties. My preschooler agreed: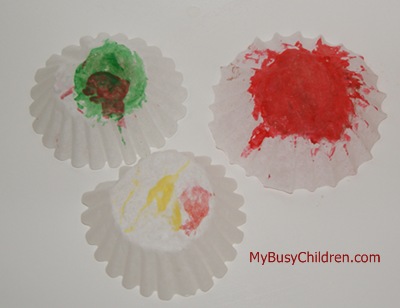 Next on my crafts-to-make list is a play kitchen constructed from old boxes and craft supplies. I cant wait to conjure up a sink, a stove, and a microwave!
The Giveaway:
Two lucky readers will win 101 Offline Activities You Can Do With Your Child book.
This giveaway is open to U.S. addresses only. No P.O boxes
To participate in the giveaway, you could do any or all of the following:
Leave any topic related comment (e.g., what offline activities do you engage in with your kids, what are your favorite travel activities) (1 entry)
Tweet about this giveaway.  Win Offline Kids Activities book; 2 winners; enter #Giveaway @MyBusyChildren http://bit.ly/qByirA    Leave a comment here with your Twitter name. (1 entry per day)
Submit this giveaway to any sweepstakes site or giveaway Linky. Leave one comment with a link each time you submit. (1 entry per submission/link)
Like me on Facebook. Leave a comment here with your Facebook name. (1 entry)
Join me on Google Friend Connect (left sidebar). Leave a comment here (1 entry)
Follow me on Networked Blogs. Requires Facebook account. Leave a comment here that you follow (1 entry)
Follow me on Twitter. Leave a comment with your Twitter name (1 entry)
Subscribe to My Busy Children by email here or via Feedburner. Or subscribe to the RSS feed. Leave a comment indicating how you subscribed (1 entry)
This Giveaway ends on August 3rd, 11:59pm EST, 2011. The winner will be chosen randomly. I will email the winner, who will have 72 hours to contact me or a new winner will be chosen.
This giveaway is closed.
The winners are
#43 Raven In A Blue Room; Raven In A Blue Room says Google Friends Connect – following you publicly as (Louis)
# 62 Mary J; Mary J says: WE love to go to Seaworld in Orlando.
Review/giveaway disclaimer: I received no monetary compensation for this review/giveaway. I received "101 Offline Activities You Can Do With Your Child" book for review. This post contains affiliate links