German Christmas Market in Georgia
Frankly speaking when we went to a German Christmas Market here in Georgia last weekend, I expected Glühwein and crepes. These are the two main holiday treats I remember from my frequent visits to a Weihnachtsmarkt in Aachen when I lived in Germany.
German Christmas Market here in Georgia was a different kind of Weihnachtsmarkt. It was set up exclusively for kids. Kids could go from one station to another to create arts, crafts, and decorations. Quite a few High School students volunteered to work with kids on Saturday. I was happy this event was in the building since wind, rain, and cold made any outside activities unbearable.
There were two cookie decorating stations with plenty of decorating supplies.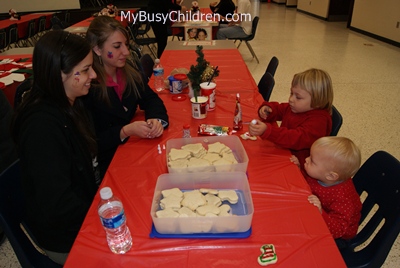 This is Masha's version of a decorated Christmas Stocking Cookie:
This is a station for decorating felt stockings with foam stickers:
There was a variety of Christmas themed stickers. Masha chose a red stocking and decorated it with the help of High School students.
Svetlana decided to observe this activity from my arms instead of participating.
This is the first Gingerbread house Masha ever made.
Svetlana was working on her house just as hard.
Face Paint artists made professional face paintings. 
Kids could choose a painting from the variety of pictures. It was really helpful to look at the available face paint options.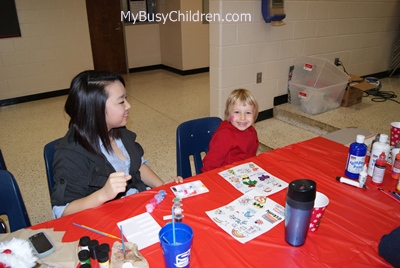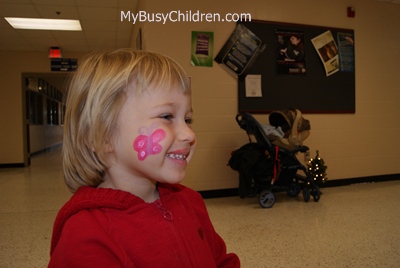 Next station was "Reindeer cups". A little help from the students and an adorable Christmas craft was ready.
Paper bag Reindeer craft kept them both busy for a while.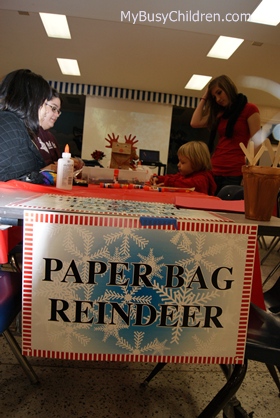 Masha worked very hard on her Christmas painting. I kept the one year old Svetlana away from this station. Or she could have created the messiest piece of art of this event.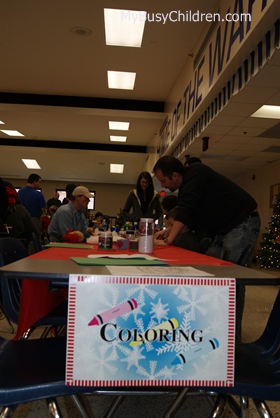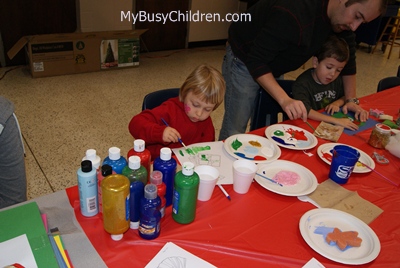 Svetlana was anxious to create some foam craft projects.  
She patiently listened to the instructions and attached foam pieces to her snowman.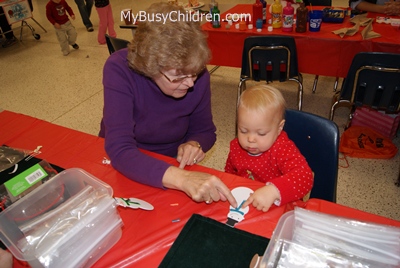 God's eyes and Origami ornaments were two more activities where students worked with kids to create arts and crafts.
Paper plate angels are perfect to decorate a Christmas tree.
The surprise of the party was a visit of Saint Nicholas who left a gift in kids' shoes. Masha was so impressed with his visit that she kept announcing at home after the party in a pretend microphone (aka spoon): "Please take your shoes off, Saint Nicholas is coming with the gifts now".
We are looking forward to the German Christmas Market next year. This event was free, however, donations are welcome to cover the costs of art supplies.
The event was sponsored by the German Programs of South Forsyth and Lambert High Schools