Trendy little girls clothing
There are three essentials to dancing with my daughters:
1.     Turn some fast music on
2.     Dance WITH them
3.     Put on fancy dresses
For the last one, we have a fancy dress from Priss Pot Designs. How gorgeous is this outfit? The skirt a has a short petticoat plus two layers of Satin and gauze Chiffon. The skirts look amazing when the girls swirl and twirl in them since the skirt has so many layers.
My 4-year old did not want to take it off and kept dancing the entire day. The girls always start dancing the minute they put on the outfit or just the skirt alone.
The outfit looks like a fancy dress for a dance recital. In fact, in a typical dance studios, dance recital costumes for little girls costs from 80 to 150 dollars but they are not any better than this costume from Priss Pot Designs. This outfit is only $36.99.
Katie, the founder of Priss Pot Designs, a trendy girls clothing line, started with making tutus. Katie could never find colors and styles she liked, so she decided to take on the project of making  them herself.  Later on, Katie added other items to her store, like boots, hats, and bloomers.
How adorable are these?
Hot Pink Heart PettiSkirt $22.99
Sizes 2T-4T and 4T-6T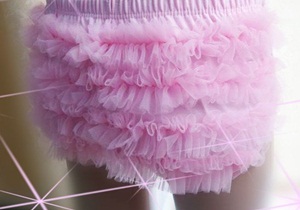 Super Cute Baby Bloomers – $11.99 Only Limited Quanity
size 6-12 months 12-18 months
You can see other Priss Pot Designs on Katie's Facebook page.
Katie also makes personalized t-shirts and shirts and sells them on her Tailgating Tots page on Facebook.
If you like these designs, you can email Katie, pay via paypal, and only a few days later you will enjoy these amazing creations.
The Giveaway:
Priss Pot Designs is generously giving away $25 gift certificate which can be spent towards any Priss Pot Designs item with free shipping to one lucky reader.
This giveaway is open to U.S. addresses only.
To participate in the giveaway, you could do any or all of the following:
Like Priss Pot Designs on Facebook AND leave a comment on their wall that you entered to win a $25 gift certificate from Priss Pot Designs at http://mybusychildren.com/trendy-little-girls-clothing-giveaway/. Leave a comment here with your Facebook name. (1 entry)
Like Tailgating Tots on Facebook. Leave a comment here with your Facebook name. (1 entry)
Like me on Facebook. Leave a comment here with your Facebook name.  (1 entry)
Vote for me on Pouty Face Pageant. You can vote once a day.  Leave a comment here.  (1 entry per day)
Join me on Google Friend Connect (left sidebar). Leave a comment here (1 entry)
Follow me on Networked Blogs. Leave a comment here that you follow (1 entry)
Blog about this giveaway. Leave one comment with a link to your post. (2 entries)
Follow me on Twitter. Leave a comment with your Twitter name (1 entry)
Submit this giveaway to any sweepstakes site or giveaway Linky. Leave one comment with a link each time you submit. (1 entry per submission/link)
Subscribe to My Busy Children by email here or via Feedburner. Or subscribe to the RSS feed. Leave a comment indicating how you subscribed (1 entry)
This Giveaway ends on March 30, 11:59pm EST, 2011. The winner will be chosen randomly. I will email the winner, who will have 72 hours to contact me or a new winner will be chosen.
This giveaway is closed.
The winner is # 34 – clarissa; clarissa  says: priss pot facebook fan commented on their wall http://www.facebook.com/permalink.php?story_fbid=158697260853839&id=192555134104116
Review/giveaway disclaimer: I received no monetary compensation for this review/giveaway. I received a gift certificate from Priss Pot Design for review purposes.