Zutano kids clothing review and giveaway
I was shopping online for kids clothing. I found a few pieces I liked and asked my four-year-old girl to choose one. She picked a Zutano dress. And from then on we became Zutano fans.
Zutano is one of the leading brands in children's fashion and design innovation.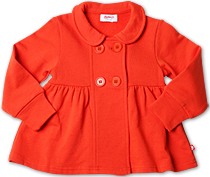 What we love about Zutano:
Soft, 100% cotton. The cotton in the clothing feels like it is double sided, with and extremely soft, fleece type feeling on the inside.  Zutano cotton  is famous for its soft, high-quality feel and texture.
Shopping online is very easy. In addition to pictures of clothing items and babies and toddlers modeling those, you can also see all the styles on one page.
Comfort. All the clothing is stretchy and comfortable. Even holiday dresses are designed for all day wear.
Bright colors and prints. It is refreshing to dress my girls in red, green, yellow, or blue colors as opposed to standard pink and purple colors dominating Girls' department shelves in stores. 
High quality which lasts not only through every day washes but also through several kids
Zutano clothing is perfect for any kids activities.  Like flying an airplane.
Or just taking it easy together:
Or training to be an astronaut:
Or jumping on the inflatables:
Recently Zutano introduced an Organic line.  Zutano Organic features 100% certified organic cotton that conveys the company's dedication to workmanship, creativity and global social responsibility.
Zutano organic includes a great selection of prints, stripes and solids:
"Forest Fun" captures adorable woodland characters romping through a pattern of trees and mushrooms
"Meadow Marsh" is a soft floral of warm organic tones with a peaceful, feminine feel. 
"Windy Days," features swirls of blowing leaves and a curious owl;
"Sunset Dots," in orange and fern;
 "Billy Goat," with subtle colors based on the organic mini stripe. 
Zutano strives to support a nurturing world for babies to come into. Zutano has helped to cultivate programs that
support educational enrichment for children,
reproductive rights for women,
an end to childhood hunger,
better healthcare programs,
regional scholarship funds,
breast feeding education, and
clothing drives.
The Giveaway:
Zutano is generously giving away a  $75 gift certificate  to one lucky reader to use in the Zutano online store.
This giveaway is open worldwide.
Shipping charges will apply. The gift certificate can be applied to both clothing and shipping. The winner is responsible for charges over the value of the gift certificate. The gift certificate should be used in one transaction. Sizes of clothing range from newborn to 4T.
To participate in the giveaway, you could do any or all of the following:
Visit Zutano. Leave a comment with an item you like (1 entry)
Join Zutano on Facebook . Leave a comment here with your Facebook name. (1 entry)
Follow Zutano on Twitter. Leave a comment with your Twitter name. (1 entry)
Join Zutano by email. Leave a comment here. (1 entry)
Leave a comment on any of my posts. Leave a comment here with a post name. (1 entry)
Like me on Facebook. Leave a comment here with your Facebook name. If you are my friend on FB already, it counts as well. (1 entry)
Join me on Google Friend Connect (left sidebar). Leave a comment here (1 entry)
Follow me on Networked Blogs. Requires Facebook account. Leave a comment here that you follow (1 entry)
Blog about this giveaway. Leave one comment with a link to your post. (2 entries)
Follow me on Twitter. Leave a comment with your Twitter name (1 entry)
Submit this giveaway to any sweepstakes site or giveaway Linky. Leave one comment with a link each time you submit. (1 entry per submission/link)
Tweet about this giveaway.  #win $75 #GC from @Zutano, designer baby & toddler clothing; enter #Giveaway @MyBusyChildren http://mybusychildren.com/zutano     Leave a comment here with your Twitter name. (1 entry per day)
Subscribe to My Busy Children by email here or via Feedburner. Or subscribe to the RSS feed. Leave a comment indicating how you subscribed (1 entry)
This Giveaway ends on February 18th, 11:59pm EST, 2011. The winner will be chosen randomly. I will email the winner, who will have 72 hours to contact me or a new winner will be chosen.
This giveaway is closed.
The winner is #141  – kathy
kathy  said – LIke you on FB Kathy Persons
Review/giveway disclaimer: I received no monetary compensation for this review/giveaway. I received Zutano products to review the products. The opinions are entirely my own.