Jay Kordich PowerGrind Pro Juicer giveaway
The Jay Kordich PowerGrind Pro juicer will revolutionize the juicing industry. Its patented new technology delivers more juice and nutrients per ounce of produce.
The Jay Kordich PowerGrind Pro has a sleek, compact design that fits on a counter-top, yet is extremely well-built. The heavy duty machine features a surgical quality stainless steel blade, a patented double feed chute, and an extra-large detachable pulp basket.

Unlike conventional juice extractors that operate at a high speed, Jay's new juicer utilizes slow grinding coupled with extraction to allow for nutritional preservation.
Jay Kordich PowerGrind Pro's  features:
Revolutionary new hybrid technology
Six international patents
Delivers more juice and nutrients than other juicers
Makes both soy and almond milk
Super quiet induction motor, guaranteed for life.
3 year manufacturer's warranty.
Heavy duty surgical quality stainless steel blade.
Patented double feed chute
Sleek compact design
Extra large detachable pulp basket
Powerful motor never bogs down
Low RPM preserves juice quality
Easy to clean, parts are dishwasher safe.
Fits easily on your counter-top
Perfect for making leafy green juices.
Operations Guide DVD featuring Jay
About Jay Kordich:
Jay Kordich, the man who pioneered juicing fruits and veggies, is a #1 New York Times bestselling author and a household name due to his memorable, wildly energetic TV campaign in the early 90's.
He has recently come out of retirement, healthier than ever, to spread the juicing word and introduce his brand new juicer featuring new hybrid technology – the Jay Kordich PowerGrind Pro.
Our experience:
The juicer is very easy to clean. No need to use a special brush to clean the blade or the strainer basket. A plain dish brush will work just fine
I like how it has a separate bucket for pulp. All the juicers I have used so far had pulp accumulated inside the juicer (in the strainer basket).
I find that making fresh juice with kids is a great activity. You can read more about this in my article Teaching kids to eat vegetables: make veggie drinks. This post also has
Top 4 Children's Juice Combinations from Jay and Linda.
Jay & Linda's Top 10 Tips for Moms with Picky Eaters
Recommendation for making juice for infants
Answers to such questions as:

How much juice is safe to drink for kids?
What vegetable should not be used in kids' juices until kids are at least a year old?
I was happy to learn that the plastic used in the juicer does not contain Bisphenol-A, which makes it a BPA-free juicer.
I find these juicing Tips from Jay not just useful, but eye-opening:
When you start juicing, remember to begin slowly so your body can adjust to the new way of eating. Gradually add raw foods and juices to your current diet.
Apples can be mixed with all fruits and vegetables.
Vegetable juices that taste "strong", such as spinach and beet, are high in compounds that should be consumed in small quantities. You can dilute these with milder tasting juices or water.
Jay recommends using organic produce; if you are unable to find organic produce in your area, use a biodegradable soap or fruit/vegetable wash or the following recipe to remove poisonous surface sprays and pesticides: Fill your sink with cold water. Add four tablespoons of salt and the juice of one-half of a lemon (this makes a diluted form of hydrochloric acid). Soak fruits or vegetables for 5-10 minutes; 2-3 minutes for leafy greens; and 1-2 minutes for berries. Rinse well under cold water.
The Giveaway:
One lucky reader will win this amazing PowerGrind Pro™ juicer!  
This giveaway is open to U.S. addresses only (no P.O. boxes). Approximate retail value of the prize is $289.
To participate in the giveaway, you could do any or all of the following:
Visit Jay and Linda Kordich online. Leave a comment – what did you learn about using fresh juice? (1 entry)
Submit this giveaway to any sweepstakes site or giveaway Linky. Leave one comment with a link each time you submit. (1 entry per submission/link; unlimited entries)
Blog about this giveaway. Leave two comments with a link to your post. (2 entries)
Tweet about this giveaway.  #win Jay Kordich #juicer ($289 value); enter #Giveaway @MyBusyChildren http://bit.ly/gR5fk1   Leave a comment here with your Twitter name. (1 entry per day)
Join me on Google Friend Connect (left sidebar). Leave a comment here (1 entry)
Like me on Facebook. Leave a comment here with your Facebook name.  (1 entry)
Follow me on Networked Blogs. Leave a comment here that you follow (1 entry)
Follow me on Twitter. Leave a comment with your Twitter name (1 entry)
Subscribe to My Busy Children by email here or via Feedburner. Or subscribe to the RSS feed. Leave a comment indicating how you subscribed (1 entry)
This Giveaway ends on April 28, 11:59pm EST, 2011. The winner will be chosen randomly. I will email the winner, who will have 72 hours to contact me or a new winner will be chosen.
This giveaway is closed.
The winner is 67 Carol W; Carol W says: I learned different recipe juices can be used for to help with different types of problems you may be having. Thanks
carolwegs at gmail dot com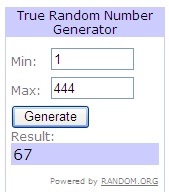 Review/ giveaway disclaimer: I did not receive monetary compensation for this review. I received PowerGrind Pro™ juicer for review purposes.