Teaching kids to eat vegetables: make fun meals
In my quest to figure out how to get my kids to eat vegetables, I determined that there are basically two steps:
–          To get them to try a new vegetable
–          To keep serving it often so they develop a liking for it. 
Have I been successful? To some extent. Both parts are not easy. We have to get creative with food to get the little ones interested. These funny creations are not magic tricks; it is still a challenge to get a two-year-old and a four-year-old to try some vegetables.
Same strategy works for fruit. I promise to have more vegetables in the second post featuring fun food creations.
This is a plum and a kiwi flower with organic organic HappyBaby Puffs in the center of the petals.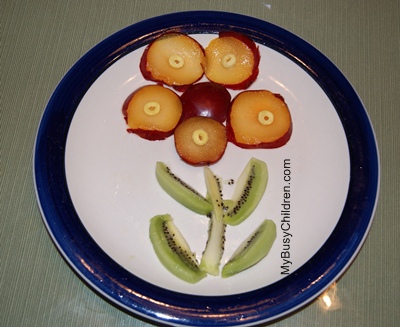 This is a buckwheat house with some goulash on top. I like making roasted buckwheat as a side dish. Did you know buckwheat is actually a fruit? And it is quite healthy.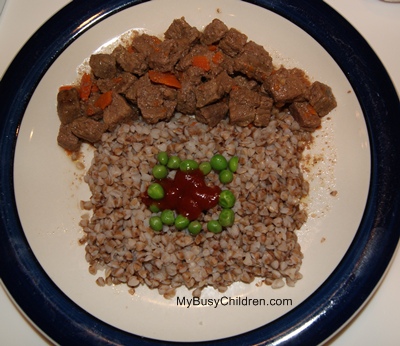 This is a watermelon Pizza made with bananas and blueberries.

This is a cottage cheese smiley face with a broccoli nose.
I made it at a Sweet Tomato restaurant.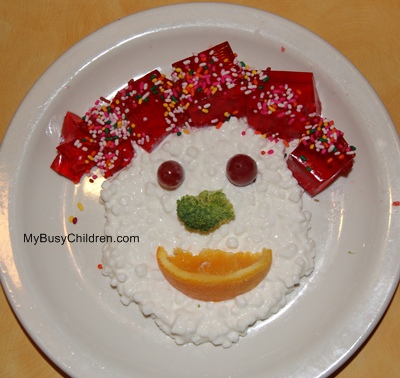 This is two caterpillars made with melon ballers. Faces are yogurt and eyes are peas.
This is a Hawaiian Hula Dancer. It certainly does not look quite attractive but kids love her anyway.
This is some kind of unknown creature made from a sweet potato.
Stay tuned for part 2 of funny meals.
Other posts from this series:
Teaching kids to eat vegetables: make veggie drinks
Teaching kids to eat vegetables: involve book characters