My multitasking afternoon + LUNA Bars giveaway. 5 winners
Thank you to LUNA Protein for providing me a LUNA Protein sample pack to review. The opinions I've expressed here are solely my own and represent my honest viewpoint.
A short excerpt from my afternoon:
I took my toddler shopping. She looked around, found a shirt she liked and loudly announced: "buy this shirt because we don't have this one at home".  Sales personnel nodded enthusiastically. How could you deny this flawless logic? I could not argue with this statement either and started looking at the clothes. In the meantime, my toddler decided to play "hide-and seek" with me. After all, what could be better suited for this game than countless clothes racks. A little disappointed that I did not want to take part in this activity, she approached every single lady in the store and proudly announced "I go hide" and "I run away". Bewildered that I dared to bring such an avid shopper with me, the ladies did not know what to say.
Having left the store empty handed, we picked up my preschooler from her day care center and headed to the park. I loaded the kids in the double stroller, handed them baggies of whole wheat puffs and cut up apples and off we went. This was a perfect moment to grab my favorite all natural snack  – a Chocolate Luna Protein Bar. Under 200 calories, LUNA Protein offers 12 grams of soy and whey protein and 3 grams of fiber to satisfy hunger.  The moment the girls finished their snacks, they decided to walk on their own, leaving me with an empty non-maneuverable double stroller to push. So there I was, pushing the stroller, watching the girls, and checking voicemail on my cell phone.
"Can you carry me, Mommy?" , my two year old asked.
"No, Lana, you can walk yourself",  I responded as usual
"Is that because you are already carrying your cell phone?" she wondered
 After chasing some rabbits and greeting every one of them with a loud "Hi, Bunny", exploring a baseball field, and jumping in the puddles, we were ready to leave. I still had enough energy to stop by the cleaners and make dinner that evening.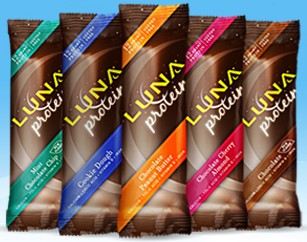 Guess what. You can win a pack of Luna bars, which are perfect for Moms (and Dads) on the go. LUNA Protein is the first high protein bar for women that provides satiation with natural and organic ingredients. Most of the LUNA Protein bars are gluten free.
The Giveaway:
FIVE readers will win a sample pack of LUNA Protein Bars as well as a bonus treat from LUNA.
This giveaway is open to U.S. addresses only.
To participate in the giveaway, you could do any or all of the following:
Leave a comment: What kind of snacks do you usually choose for yourself (not your kids)? (1 entry)
Like Luna on Facebook. Leave a comment here with your Facebook name. (1 entry)
Tweet about this giveaway.  #Win a pack of LUNA Protein Bars. 5 winners.  Enter #Giveaway @MyBusyChildren http://bit.ly/oFcNnD    Leave a comment here with your Twitter name or link to the tweet. (1 entry per day)
Submit this giveaway to any sweepstakes site or giveaway Linky. Leave one comment with a link each time you submit. (1 entry per submission/link)
Like me on Facebook. Leave a comment here with your Facebook name. (1 entry)
Join me on Google Friend Connect (left sidebar). Leave a comment here (1 entry)
Follow me on Networked Blogs. Requires Facebook account. Leave a comment here that you follow (1 entry)
Follow me on Twitter. Leave a comment with your Twitter name (1 entry)
Subscribe to My Busy Children by email here or via Feedburner. Or subscribe to the RSS feed. Leave a comment indicating how you subscribed (1 entry)
This Giveaway ends on September 1, 11:59pm EST, 2011. The winner will be chosen randomly. I will email the winner, who will have 24 hours to contact me or a new winner will be chosen.
This giveaway is closed.
The winners are
254 – julie b
66  – Sara Haaf
182  – Diana Bradford Hatch
196 – Marysa
174 Jill Myrick
Please click here to learn more about LUNA Protein. I was selected for this sponsorship by the Clever Girls Collective. All opinions are my own. #cleverLUNA