Strawberry picking in North Georgia
I took my preschooler on her first strawberry picking outing in North Georgia.  Strawberries are easy to pick for a preschooler since they are so large and bright.  This activity is quite addictive – we did not leave the patch until we had about 4 gallons.
Our plan was to use some for a strawberry daiquiri, some for a  strawberry milkshake, make some chocolate covered strawberries, freeze some, and eat some. We completed only the first and the last part before we ran out of strawberries. It seemed like the strawberries from the farm are much sweeter and more aromatic than the berries from the grocery store.  Maybe this is because we picked ripe strawberries and ate them the same day?
This trip brought memories. I have been picking strawberries at my grandparents' garden since I was two. They had long patches, covered with strawberry bushes. The entire year we were looking forward to the strawberry season, which is only a few weeks from late June to early July in Siberia.  These few weeks were quite intense as we were making strawberry jam to last us the entire year. Some day I will make it, that is when I have more strawberries than I can eat and when I learn how to can jams.
How gorgeous are these?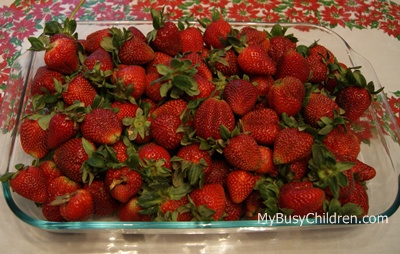 Masha quickly learned how to pick the berries:
She is ready to go home after she picked two gallons. Masha is wearing Teres Kids Pants with knee pads here.
She is also wearing a Baby Banz flap hat which you can win here.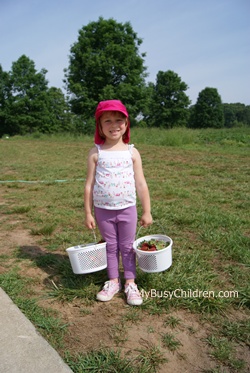 What about you, have you been strawberry picking this year? Do you grow any in your garden?
Link your Wordless Wednesday Posts here:

Tags: Wordless Wednesday