Teaching kids to eat vegetables: make veggie drinks
My two kids, a toddler and a preschooler, are quite reluctant when it comes to eating vegetables. Recently I started introducing vegetables in freshly squeezed juice.
I was not sure where to start with making juices for my picky eaters. Luckily, Jay and Linda Kordich put together a manual for Moms who have picky eaters. Their tips are amazing. I actually printed a copy of the tips. I pinned it on the fridge door.
I also printed Top 4 Children's Juice Combinations from Jay and Linda. I take it to the grocery store with me as a guide what vegetables and fruit I would need to use in the first juices for kids.
Now my kids are learning to like the taste of vegetables by drinking freshly squeezed fruit juice with some added vegetable juice. We started with a mix of apple and carrot juice.
Here are Jay & Linda's Top 10 Tips for Moms with Picky Eaters
1.  Sit down with your child and ask them what fruits and veggies they like or only so-so like.  By identifying them, it helps the parent focus on the few or many, depending on the child, which juices to make FIRST.
2.  If they don't want to do this, then find online fruit and vegetable images – and have them choose which ones they like and which ones they would be open to trying.
3.  Once identified, then you can ask your child to come to the store with you so they can be involved. Getting emotionally invested with their parents and/or parent is part of the process.  This way, they will be more likely to taste and drink the juice.
4.  Now that you are back from the store, invite your child or your children into the kitchen to help prepare the produce for washing.
 5. Get the juicer out from under the cabinet and ask them to help get a chair so that they can do the pushing of the fruits or veggies into the juicer.  THEY LOVE THIS PART!
6.  If your child is really picky, use a colored glass under the spout so the color of the veggies does not cause a negative reaction.  The taste, even if it's vegetable based, will never taste like cooked vegetables.  They are always much sweeter in their raw state and more nutritious as well.
7.  We suggest you start off with a veggie and fruit juice combination such as: 10 carrots and 2 apples (not green as they are a bit tart but any other works fine … i.e. golden delicious).
8.  Once they taste this, they will be surprised at the sweetness of the juice and be more open to trying more daring veggie juice combinations.
9.  If they are completely adverse to trying the carrot/apple combo, then start with apple/celery combo, and if that doesn't work, then try apple/berries of any kind.  Children love to drop berries into the juicer!
10.  Once your children get the hang of juicing, they will begin to open up the doors to the delicious and nutritious benefits of vegetable juicing.  Just remember to invite them into this world of juicing so they become part and parcel to the entire process which ensures success and a deeper bonding experience with them.  We also suggest bringing Dad in on it too!
Our experience:
Jay and Linda sent us their new fabulous juicer for review.  We are having so much fun making juices. The kids love putting their little glasses under the spout and filling them up with freshly squeezed juice.
They definitely enjoy throwing fruit and vegetables in the juicer:
And how much fun it is to watch the juice coming out of the juicer: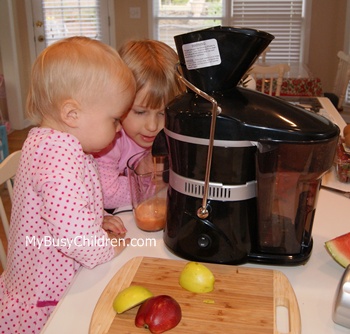 Here is why I like making juice with my kids:
It is a food preparation activity which requires minimum setup and minimum clean up.
We can use any fruit and vegetables we have handy.
We can be very creative when it comes to recipes. Kids can create recipes themselves.
Kids like to eat cut up vegetables in the process of making juices
There are no hot pots and pans involved they can touch and brun themselves
It is fun!
Linda and Jay also agreed to answer some of my questions about making fresh squeezed juices for kids:
Are there any limitations on how much juice can toddlers or preschoolers drink? My 2-year-old can drink an entire cup of carrot juice. I am concerned if that could be too much for her.
[Linda]  If she is 2 year olds, this is no problem…in fact that's amazing she is drinking carrot juice.  Most kids won't drink more than 12 ounces at a time, and if they do, it's fine, although their bowels may look a bit different than normally, so that needs to be considered.
Are juices safe for babies between 4 and 6 months old?
[Linda]  We don't recommend juicing for infants under six months old, due to the bacteria (whether they are organic or not) , but mostly it's because of the strength of vegetable juices being so strong.
However, if parents are inclined to introduce fruit juices before a baby is 6 months old, we suggest diluting them 50/50 with purified steam distilled water, and make sure they are washed thoroughly and organic. Once children are 6 months old, then we suggest any kinds of veggie juices will be fine, but still mixed 50/50 as we suggested with the fruit juices.
Are all fruits and vegetables safe to use in juices for kids?
[Linda]  We don't recommend more than 1/4 of a beet for any child from the age 1 – 3 years old.  No beets or veggies in juice for until they are 6 months old, and with beets we like to wait until they are one year old.  Beets are highly cleansing and work heavily on the liver as a detoxifying agent so that's why we like to wait until they are 1 and that would mean, only 1/4 of a small beet mixed in with apples.  Apple/beet combination is wonderful.  Once a child reaches 5 years old, then they can consume as much as a half of a beet, when combined with other apples, or carrots, or celery, or something like that.
 You should try these Top 4 Children's Juice Combinations from Jay and Linda:
#1. Sweet bubbles:  2 peeled oranges and 1/4 pineapple without the rind
#2. Purple Playmate: 1/2 cup fresh blueberries and 2 peeled oranges
#3. The Red Parrot:  4 golden Delicious Apples and 1/4 beet without the green leaves
#4. Relaxing Charlie:  3 ribs Celery and 2 golden delicious apples
Review disclaimer: I did not receive monetary compensation for this review. I received Jay Kordich PowerGrind Pro™ juicer for review purposes. This is
not

a giveaway post.