Atlantis review: travel with a preschooler
Our family recently enjoyed a trip to the Atlantis, Paradise Island Resort. We stayed at the Coral Towers.
We loved so many things:
The view from the Coral Tower was unbelievable. These pictures were taken from the balcony in our room:
My preschooler especially liked spending time on the balcony looking at the grounds and the ocean, which were spectacular.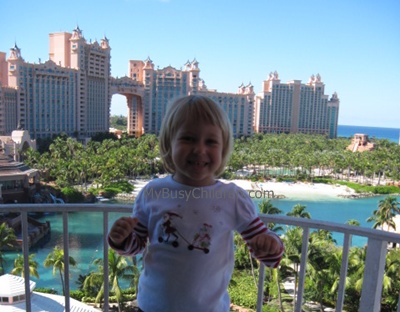 The hotel was beautifully and professionally decorated for the Christmas season.  The Hotel rooms and lobbies were lovely, clean and spotless.
The desk attendants were dressed in bright orange. Housekeeping staff weas dressed in impeccable pink uniforms. The service was outstanding.
The grounds of the huge Atlantis Hotel are a marvel!  Winding tunnels of aquariums cover miles of the hotel grounds.  Hundreds of fish of every color mingle with sharks and sting rays of all sizes.
There are so many things to see and a million of places to visit.
Palm trees, lava stones, secret tunnels, rope bridges, small beaches, multiple pools, water slides for all ages, several kiddy pools are all spread out across the huge grounds of the Atlantis.   
 Atlantis hotel is by far one of the most beautiful hotels you will ever see, inside and out.
My recommendations:
–          Take a stroller if you have a child 5 years old or younger. The grounds are vast as well as the inside hallways, connecting each tower.
–          Consider purchasing a meal plan since Restaurants are somewhat pricey. Plus, all food and drinks had a 15%  gratuity added to the bill.
My recommendations that could make Atlantis experience even better:
–          Sometimes it is noisy at the kiddies pools area from the maintenance vehicles constantly going by. I would recommend that the Hotel management finds an alternate route for these vehicles, which would be away from guest areas.
–          You can drink the water from the tap in your room, but the Hotel Management does not recommend it.  Bottled water in the room was $6.00 per bottle. I would recommend providing water filters for the rooms.
–          Free drinks that came with our reservation were for gourmet restaurants that were not for children under 6 years.  Our drinks coupons went unused. I would recommend offering different kind of coupons for families with kids.
What to know if you have kids ages 3-12:
Atlantis Kids Adventures is a 8,000-square-foot kid's club (programs for ages 3-12). This club includes:
Arts & Crafts room
Culinary Kitchen
The EVERY video game ever made room
Wizardology reading room
Fully-stocked "Grocery Store"
Computer area
Performance area
LEGO Construction area
There is a separate fee for club attendance, it is not included in the basic resort reservation price.
What to know if you have teens:
Recently a teen club CRUSH for teens ages 13-17 was opened. The 14,000 square-foot space has an interactive internet lounge complete with: multi-touch computers and surface tables with photo editing and publishing interfaced to Facebook, a game room stocked with the most state-of-the-art technology including the new Microsoft flagship motion sensor product Kinect for Xbox 360, a floor-to-ceiling gaming tower with 24 gaming consoles, 10 private gaming cabanas, iPads for internet browsing and multi-purpose video walls decorating the dance club – think VIP sections, doormen and paparazzi! Inspiration for the space was provided to Atlantis and Beers by a series of teen focus groups.
We are looking forward to our next trip to Atlantis.
Review disclaimer: I did not receive monetary compensation for this review.