The perfect rainy day Halloween costume
Last year I bought my daughter a princess Halloween costumes. She kept trying it on for two weeks before Halloween. She was so much looking forward to wearing her princess dress for trick-a-treating. Unfortunately, it was raining the entire evening of October 31st.
I started wondering if there were costumes designed for rainy days. I looked online and in the stores, but did not find any water resistant Halloween costumes.
Recently, I came across Kidorable. I oohed and aahed as I was looking through the Kidorable collection of matching rain gear: umbrellas, raincoats, rain boots, backpacks, scarves, hats, mittens, and more.

I know exactly what my kids will wear this Halloween if we have rainy weather. Kidorable collections are so cute and truly adorable. The choices are endless; a butterfly and a frog, a dinosaur and a fairy, a fireman and a ladybug, a lotus flower and a lucky cat, a mermaid and a pirate, a space hero and a bee. The English roses collection is stylish and stunning.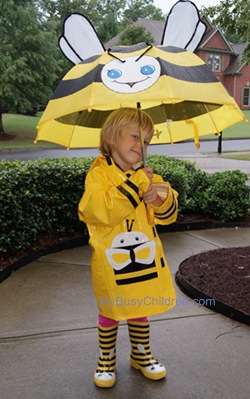 The best thing is that my kids can wear their adorable rain gear all year round. What can be more fun than jumping in the puddles, walking in wet grass, and running under the rain? They do not have to stay inside anymore when it rains.
I was impressed with the high quality of Kidorable products.
Rain jackets are roomy and well made. I like the pockets as well: one pocket with a flap and one with a zipper. The jacket comes with a matching themed hanger. The hood pulls over my daughters head to keep her dry.
The umbrella is easy to open. Umbrella rib end clips are large and safe for kids.
The boots are comfortable and light. Even my one year old can run fast in them.
Kidorable is giving away one umbrella of your choice. You need to have a valid U.S. address to enter.
 To participate in the giveaway, you could do any or all of the following:
Visit Kidorable. Leave a comment here with your favorite style
Leave a comment on any of my posts. Leave a comment here with a post name.
Become a Fan of Kidorable on Facebook. Leave a comment here with your Facebook name. 
Follow Kidorable on Twitter.  Leave a comment with your Twitter name.
Tweet about this giveaway. Use the following to tweet: win @Kidorable umbrella of your choice: $15 value. Enter #giveaway at @mybusychildren  http://bit.ly/a6kfNn        Leave a comment here with your Twitter name. You can tweet once a day.
Follow me on Twitter. Leave a comment with your Twitter name
Subscribe to My Busy Children by email here or via Feedburner. Or subscribe to the RSS feed. Leave a comment indicating how you subscribed
This Giveaway ends on October 28th, 11:59pm EST, 2010. The winner will be chosen randomly. I will email the winner, who will have 72 hours to contact me or a new winner will be chosen.
This contest is closed. The winner is Amy Delong (number 176). Congratulations!  
Review/giveaway disclaimer: I received no monetary compensation for this review. I received Kidorable products for review purposes. The opinions expressed are entirely my own. This post contains affiliate links.