Teaching kids about analogies (giveaway)
"Freddi the Dog" is a book which is both funny and educational. Both kids and adults laugh at Freddi's adventures. The book teaches kids about analogies. Freddie the Dog eats everything because it looks like something edible. All analogies are demonstrated with pictures. For example, Freddi eats a telephone because it looks like a hotdog. She eats Aunt Martha's wig because it looks like tasty spaghetti. I won't tell you what Grandpa Joe's holey underwear looks like, you will need to find out for yourself. 
The book also introduces preschoolers to anatomy. You won't find a list of every bone, but kids can learn what a dog's skeleton looks like. To me, this is extremely helpful. Since my kids still think that skeletons are just a type of people. In addition, kids learn about X-rays when Freddi goes to see a doctor.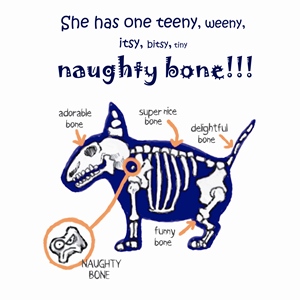 Freddi is actually a real dog. Freddi's full name is Fredericka. Her owners are author's Lisa and Randy Herman. Some people think Freddi is a boy dog because of the name, but she is a girl!! She is an English Bull Terrier who is 11 years old, which is 77 years old in dog years. Freddi's favorite things to do (when she has free time) is to eat, eat again, and eat some more.
Not only does Freddi have a book written about her, she has a website, dedicated to her exclusively. You can play games with Freddi, such as Puzzling Situation, Buried Bones, Math Bath, or Munchie Dreams. You can see all Freddi's friends there. You can even enter a contest where you draw and name a character for the next book.          
You can get this book
–          on Freddi's website
–          on Amazon, where you can also read more reviews
–          Or WIN IT!
One reader will win a copy of "Freddi the Dog" book. To enter, you need to have a U.S. address.
To participate in the giveaway, you could do any or all of the following:
Enter Freddi's contest.  Leave a comment here with your character name.
Leave any comment related to this topic.
Leave a comment on any of my posts. Leave a comment here with a post name.
Be my friend on Facebook. Leave a comment here with your Facebook name. 
Follow me on Networked Blogs. Requires Facebook account. Leave a comment here that you follow
Tweet about this giveaway. Use the following to tweet: win Freddi the Dog" #childrens #book Enter #giveaway at @mybusychildren http://bit.ly/freddi                    Leave a comment here with your Twitter name. You can tweet once a day.
Follow me on Twitter. Leave a comment with your Twitter name
Subscribe to My Busy Children by email here or via Feedburner. Or subscribe to the RSS feed. Leave a comment indicating how you subscribed
This Giveaway ends on December 29th, 11:59pm EST, 2010. The winner will be chosen randomly. I will email the winner, who will have 72 hours to contact me or a new winner will be chosen.
This giveaway is closed.
The winner is #27 –  Kate
Review/giveaway disclaimer: I received no monetary compensation for this review/giveaway. I received Freddi the Dog Children's book for review purposes. The opinions expressed are entirely my own. This post contains affiliate links.
Tags: Freddi the Dog review