Zio children's active wear encourages kids to stay active (giveaway)
Sometimes it seems that in our society kids are encouraged not to exercise. Running and jumping is often frowned upon, while sitting still will get an award for being a good girl/boy. I understand that there may be reasons behind that, like safety, discipline, etc. But could it be that because of such influence, kids subconsciously are avoiding exercising and would much rather sit on the couch than play actively.
In an effort to keep our two little girls active, we are trying different ways to get them moving. We sign them up for dance classes, take them for walks in the park, play hopscotch in the driveway.
I also found that one of the great incentives for kids to stay active is to have clothes that are comfortable, colorful, and stylish.
We love Zio Sport active clothing. It is very comfortable and oh, so stylish. My 4-year-old thinks she is a soccer super star when she puts it on. In addition, she know that if we put a Zio outfit on, that means we are going for a walk, for a run, to play with a ball, or to jump rope.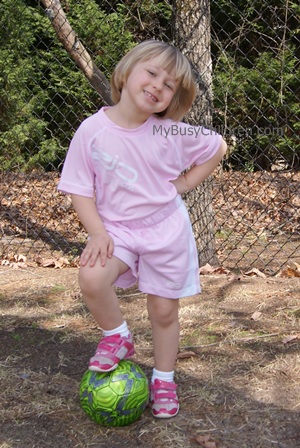 Zio clothing is 100% polyester, which I just recently found out is perfect for active play, running, or hiking.
Per Jeff Alt, cotton retains moisture from sweat which clings to your body, which can lower your internal body temperature and cause hypothermia.  Children are more susceptible to hypothermia than adults. Synthetic clothing will wick the moisture away from the body.  
Zio active wear is very easy to wash. Sometimes, I just rinse a stain under running water without washing the entire shirt
Zio Sport was started by two mothers and a grandmother who felt there was a void in quality activewear for kids.
Zio Sport designs, develops and sells active clothing for kids 4-14. Zio will be launching a new line this month. Here are some pictures of the Spring/Summer 2011 collection.
I admire Zio Sport's generosity. It donated $38K of clothing to Kids in Haiti. Zio shipped more than 26 boxes of clothing to Clothes4Souls. The non-profit organization will then sent the apparel to the children of Haiti.  
"The kids in Haiti still need our help," Zio Sport President and Co-founder, Ragan Melton said. "These kids have nothing. Clothes4Souls 
will ensure that the children of Haiti receive much-needed clothing.  Clothes4Souls focuses on children, just like we do here at Zio Sport."
The Giveaway:
Zio Sport is generously giving away $50 gift certificate  to one lucky reader to be used in the Zio Sport online store.
This giveaway is open to U.S. and Canada addresses only.
Shipping charges will apply. The gift certificate can be applied to both clothing and shipping. The winner is responsible for charges over the value of the gift certificate. The gift certificate should be used in one transaction.  
To participate in the giveaway, you could do any or all of the following:
Visit Zio Sport and leave a comment on this post with a product you like or with a fact your learned about the company. (1 entry)
Like Zio Sport on Facebook AND leave a comment on their wall that you entered to win a $50 gift certificate from Zio Sport at http://bit.ly/eu7Nps. Leave a comment here with your Facebook name. (1 entry)
Follow Zio Sport on Twitter. Leave a comment here with your Twitter name (1 entry)
Tweet about this giveaway.  #win $50 #GC for @ziosport kids active wear; enter #Giveaway @MyBusyChildren http://bit.ly/eu7Nps   Leave a comment here with your Twitter name. (1 entry per day)
Vote for me on Pouty Face Pageant. You can vote every 24 hours. Leave a comment here.  (1 entry per day)
Submit this giveaway to any sweepstakes site or giveaway Linky. Leave one comment here with a link each time you submit. (1 entry per submission/link)
Blog about this giveaway. Include link to Zio Sport and to this giveaway. Leave  a comment with a link to your post. (3 entries – leave 3 comments)
Like me on Facebook. Leave a comment here with your Facebook name.  (1 entry)
Join me on Google Friend Connect (left sidebar). Leave a comment here (1 entry)
Follow me on Networked Blogs. Leave a comment here that you follow (1 entry)
Follow me on Twitter. Leave a comment with your Twitter name (1 entry)
Subscribe to My Busy Children by email here or via Feedburner. Or subscribe to the RSS feed. Leave a comment indicating how you subscribed (1 entry)
This Giveaway ends on April 4, 11:59pm EST, 2011. The winner will be chosen randomly. I will email the winner, who will have 72 hours to contact me or a new winner will be chosen.
This giveaway is closed.
The winner is # 24 Aleksandra ; Aleksandra says I like you on Fb alreay
Review/giveaway disclaimer: I received no monetary compensation for this review/giveaway. I received a gift certificate from Zio Sport for review purposes.